You surely have seen the heavy graphics, meaty characteristics and complicatedly designed games to engage and involve you to this new world. Sometimes if that's not the case, at least games like Mario or simpler like Angry birds, still have strategically designed level system. But what about simplistic games with minimal design and not even remotely close to those you play and still manages to engage and surprise you. Well, if you fail to recall any, here are these 5 which might interest you. And yes, some might seem weird at early too.
1. Go To Do
Go To Do is quite simplistic, more like a challenge and even it feels weird at first but definitely fun to play. You will see red dots circulating in different layers on rings. Then there is a white dot which you need to make it reach to the central big white dot before getting hit by the red dots. It is tricky, strategic and fun to do.  The path of each circle is different from each other, first, it is clockwise and then anti-clockwise. You need to make sure before jumping to the next ring whether the red dot is nearby to hit or not. It is more about predicting the positioning and movement of red dots and be precise with every move. The game is simplistically designed with just those rings and dots along with the color-changing background.
2.DD Node
DD Node is again an online game with minimalistic design and graphics but yet interesting and can engage you for a couple of hours. In this challenging game, you will find different outlined shapes with connecting dots. You just have to tie these nodes or nodal structure from one point to another leading towards the completion of the structure. The challenge is to complete it without starting from anywhere else except the end point of the earlier node. The first two are extremely simple so you will get the idea but later on its just getting tricky and complicated. If you get stuck somewhere you can always refresh the level and start again.
3.Fast Knife Game 
Fast Knife Game is not as weird or different as these earlier two but still quite simply designed the game to consider. You will find quite a peace at throwing the knife to a wooden log. Its just something feels good and bit real as well. The game is well designed and the sound effects almost give you feel that you have thrown the knife. The game is though pretty much simple. You have to throw knives to the wooden log until the log get shattered into pieces. You are supposed to throw these knives on the apples to chop it off and the wooden log itself. What you only require to avoid is not to hit the knives which are already stuck into the revolving wooden log.
Play Fast Knife Game Online>>>
4.Tower Challenge
Tower challenge will make you remember those classical Tetris games where you have to arrange the building blocks in different shapes and stack in order. The same rules apply to here but these angry face colored boxes need are in same shape and size and need to be stacked as a tower. The boxes are moving from one end to another over a platform where boxes need to be stacked. You are supposed to drop it on a certain time to make it stack in order.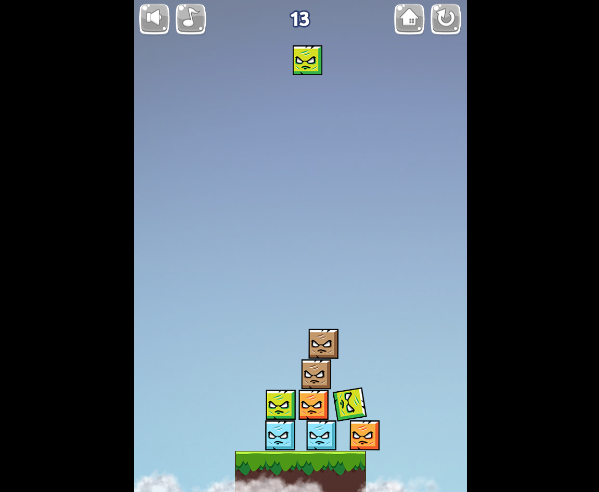 Play Tower Challenge Online >>>
5. Dots Pong Game 
Dots Pong might be one of those ultimate simplistic games that you ever played. All you see is one black and one white ping pong balls on above and bottom. One ball where the color is continuously changing from black and white and white to black is hitting both ends. The challenge is to make sure the moving ball hits the same color of a ball on each side. With the click, you can switch in-between black and white. It is quite fun to see how long you can stay in the game.