Whether it is movies, graphic novel or games, zombies have become cult niche to enjoy. Zombie games are one of the most popular game categories ever whether it is video games, Android games or online games. Here are some great websites where you can find a good collection of online zombie games. You don't have to sign up or pay anything. Well, you can thank us later!
Agame.com
Popcap is a subsidiary video game developer of EA games which is most popular for zombie games such as Plants vs Zombies. It is one of the most popular zombie games recently made where they have released various versions as well. Plants vs Zombies and its other versions are basically Smartphone games but you can play these on Agame.com as well. There are different versions such as Plants vs Zombies 2, Plants vs Zombies: Garden Warfare, Plants vs Zombies: Garden Warfare 2, Plants vs Zombies: Heroes, Plants vs Zombies 2: It's About Time and more. In the game, you have to cultivate the garden with pea-shooting plants to attack zombies. You can say, plant vs zombies franchise or series is one of today's most popular and different zombie-killing games to play.
Play Zombie Games on Agame.com>>>
ZombieButcher.com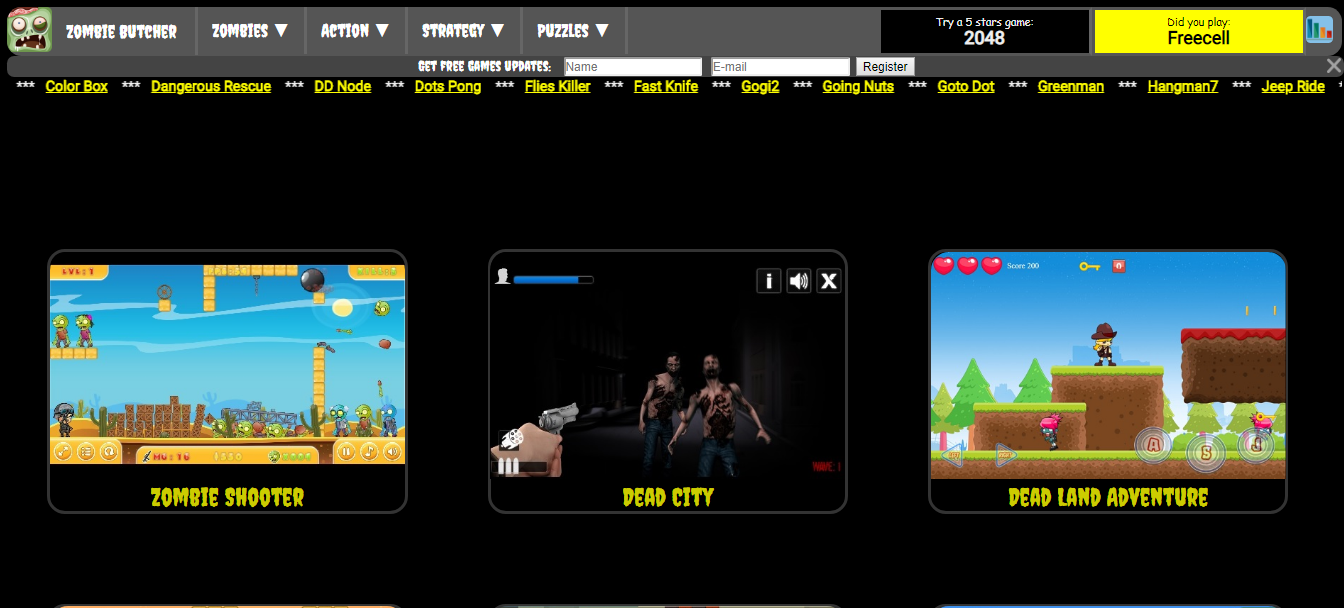 If you are looking for different types of zombie games including action, adventure, shooting and all, Zombie butcher is a perfect website for that. They have this limited but the best online zombie games to play. One of them which you will really love is Zombie Buster, more like a strategic action game. Then, there are games like Dead City and Dead Alley, more like shooting zombie games. You can also go for Dead Land Adventure and Shoot Angry Zombies which is more of zombie killing adventure. They have quite a variety on a simplistic ad-free website which is easy to load and efficient on gameplay.
Play Zombie Games on ZombieButcher.com>>>
AddictingGames.com
Addicting games have such a range of zombie-killing games, however, you won't get the variety of zombie niches like with ZombieButcher.com and even a lot of games are here not as good. Still, there are plenty of zombie games in different styles, more of zombie killing as in shooting to get here. One of the best games you can play here is Zombocalypse where as a boy with a sword or guns you need to kill all zombies coming at you. Quite engaging! Another best thing about the website is when you hover the mouse of game thumbnails, they will show you a small preview where you can see what the game is about. This makes easy to choose your kind of zombie games. Then, you find '13 Days in Hell' which is quite similar to Dead City Game.
Play Zombie Games on AddictingGames.com>>>
Poki.com
Poki.com got some great collection of zombie games, again their variety is more focussed on the zombie-killing. So you won't find much of adventure or different set of sub-genres with zombies here as you have seen with ZombieButcher.com or even with Agame.com. Still, if you are a fan of zombie-killing, this is among the best to go for. Also, they do have some different ranges of zombie-killing games such as Zombs Royale, Zombsio, Eggbot vs Zombies, Roger Dead: Zombie Biker and more. The poki.com is also free from advertisements or pop-ups, so it is easier to play here.
Play Zombie Games on Poki.com >>>
Crazygames.com
Like Addictinggames.com and Poki.com, Crazygames.com do have a large pool of zombie games where you can find the best for you. You have to be quite selective about it as not all games are as impressive as some particular ones. We recommend to play games such as Zomboapocalypse 2, Raze 3, Deadwalk.io and Zombo Buster Rising. You will also get a preview of the game by hover the cursor to the thumbnails and choose accordingly. Other zombie games such as Zombo buster and Zombies Can't Jump are also engaging to play. Some games demand to download the latest adobe flash player as well. There are different suggestions provided by the website customized to what you are playing. This is a really great personalization feature, help to find the games you like.