In the previous part of this post, you have found the five of these most fantastic and compelling games, great enough to grab the whole schedule and make you cheat on a work day. Here are the further 5 online games in that series.
Get the first 5 online games in the series in the previous post >>>
6. Robbers in Town
Robbers in Town is a fun game and challenges your mind to control dual player at one time where two separate keys are denoted for their movements. Two robbers are running after robbing the bank and trying to escape on the rooftops. You suppose to make necessary jumps when required in order to make them reach successfully to their destination. The problem is, it becomes so tricky and confusing to control two protagonists in the game simultaneously. You have to train your brain to understand the pattern, speed, and jump.
7. Dangerous Escape 
It is a helicopter which plays the protagonist in the game controlled by the gamer. The survivors are placed or can be seen in various mountain tips even that look quite funny. There are also between the trees. Sometimes placed on the top of the buildings or any construction. The game is design to create a complex route for a helicopter to fly swift and pick survivors.
8. Cut The Rope 2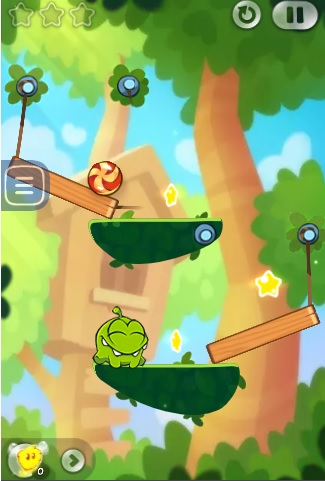 You have to feed the cute little green monster the candies which are tied with the help of a rope. Not just that, you have to cut the rope along with collected the coins so you can earn points and also fed the monster too.  However, the whole you play, make sure that the candies directly fall in the mouth of a monster.
9. Pacman
Pacman surely doesn't need any introduction in the gaming arena since the very beginning. It ruled in the arcade gaming era around the 80s and even later in 90s with PlayStations, computers and further in smartphones as well. It was a legendary game in the history of pop-culture. It was a puzzle single-frame game to play where you as Pacman, an emoji suppose to eat all dots in the maze without being getting caught by those coloured monsters.
10. Knights Diamond
Knights Diamond is a well-designed game with some cool graphics and fine detailing with characters and other things. You will see yourself a cute short knight with the sword of your height running and killing skull-head guys. You need to get all the gold coins and use hit boxes with swords to get the power inside. You will get power to throw swords at skull-head enemies from a distance so you won't be harmed.