Concept 
The basic concept of the game is to deliver the experience for a space adventure where you will be an intergalactic pirate flying through the armadas of alien defense army, their drones, spaceships, war machines, rocket and what not. Your aim is to take away as much you can, more of their resources, powers and all.
Design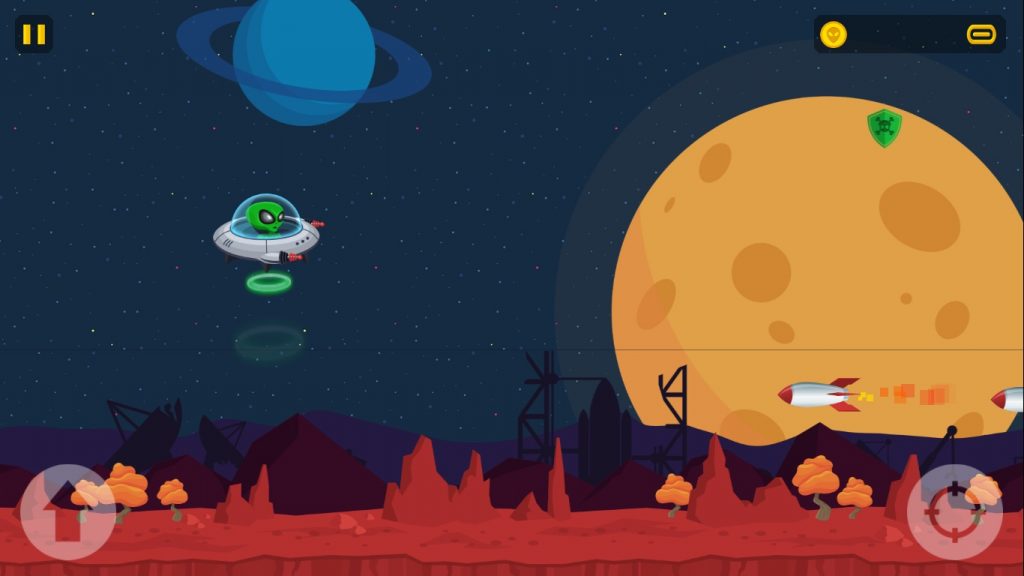 The overall design of the game is visually stunning, ideally crafted for the online PC version as well as smartphones. It is platform auto-side-scrolling game where you not much changes in the background so you won't feel much of the adventure, at least not unless the next level. The space-based game does provide the background or backdrop of astonishing planets, moon and stars along with the ground, surely like some other planet. You as a protagonist on your space shuttle is well-designed and so the different types of enemies as well. There are alien rockets, drones, spaceships and much more in their disposal to attack you. The overall design of the game is in HD graphics with pixel-art style. Also, it is well optimized for multi-platforms as for desktop and also for the smartphones. There are a wide variety of enemies, bonuses, powers, and takeaways from each level of the game.
Gameplay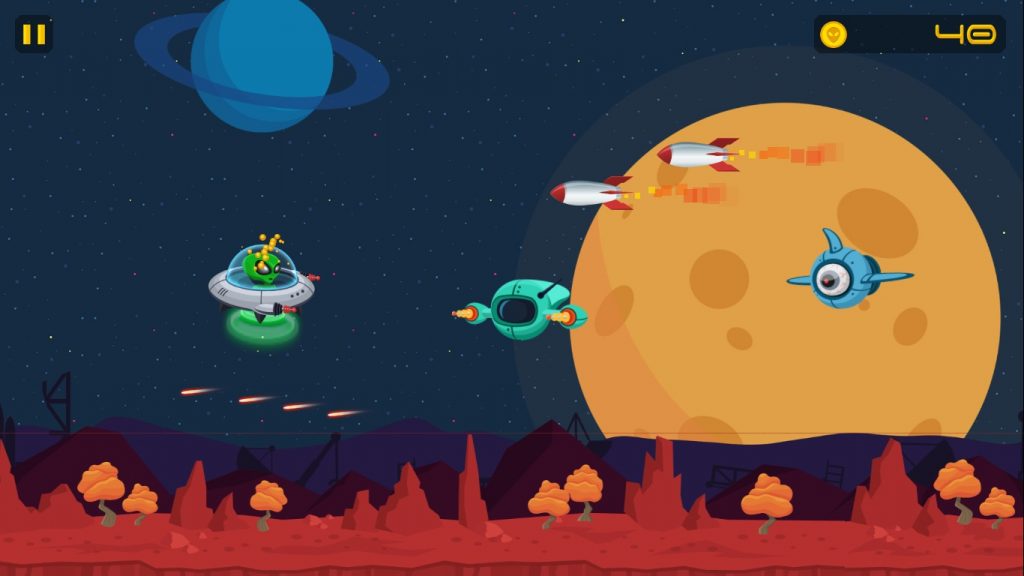 The space-action game has infinite gaming which means it is nowhere to end, so you don't have to worry about that. You control this space pirate green alien in a space where you need to maintain the flight in the space with the help of key 'Z' and shoot with the key 'X'. You are supposed to protect yourself from any kind of hit from alien's defense system whether it is their rockets or their drones' laser beam. You also need to keep shooting anything against you, seem to be a potential threat to you or surely if shooting at you. What makes the game more difficult to play is you are supposed to keep pressing the 'X' key to take the flight in the space, otherwise you will fall and go ' boom' on the ground. That means, even your movement, dodging or going to shoot at certain points will be dictated by the flight key. You need to get a good hold and command over it which needs a bit of the learning curve, especially if you are not very much habitual of playing such games. There are some green armors give you protection shield against rockets or bullets but only for a while.
Instructions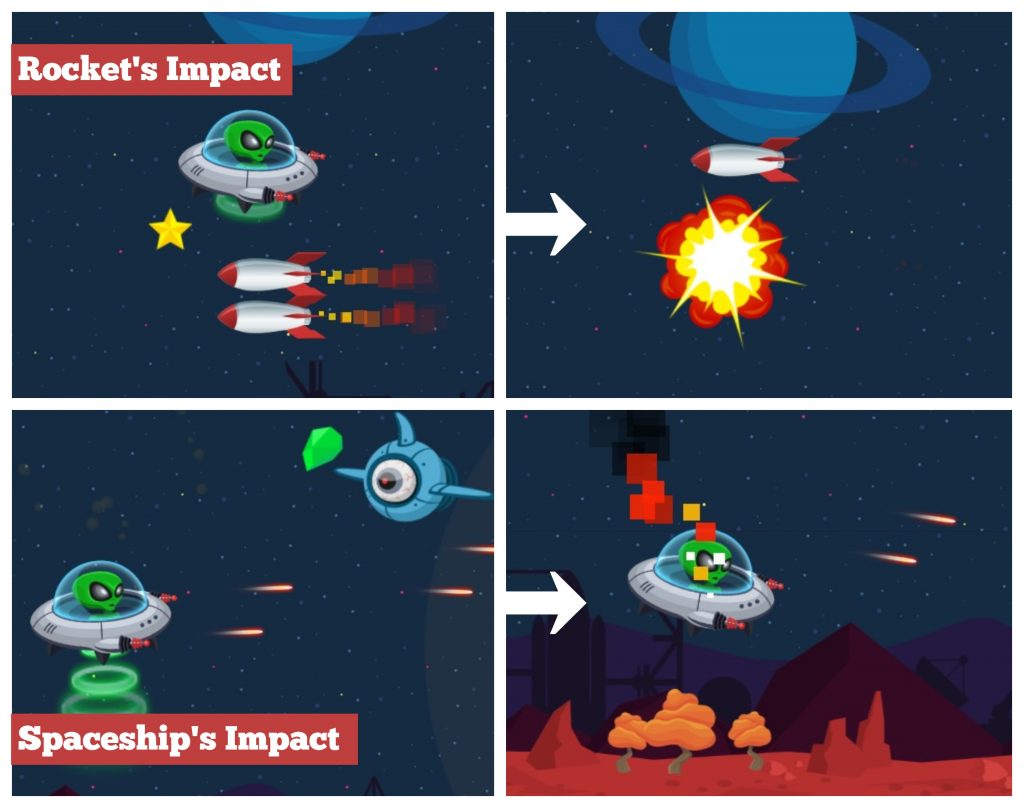 Use ' Z' to stay on the space where for that you have to keep pressing it to hold or constantly pressing according to the kind of vertical movement you require or want. You are supposed to keep shooting at the upcoming threats coming at you and destroy before it came in contact with your or shoots at you. Use ' X' key to shoot and 'Z' at the same time to move as well.
Tips to Play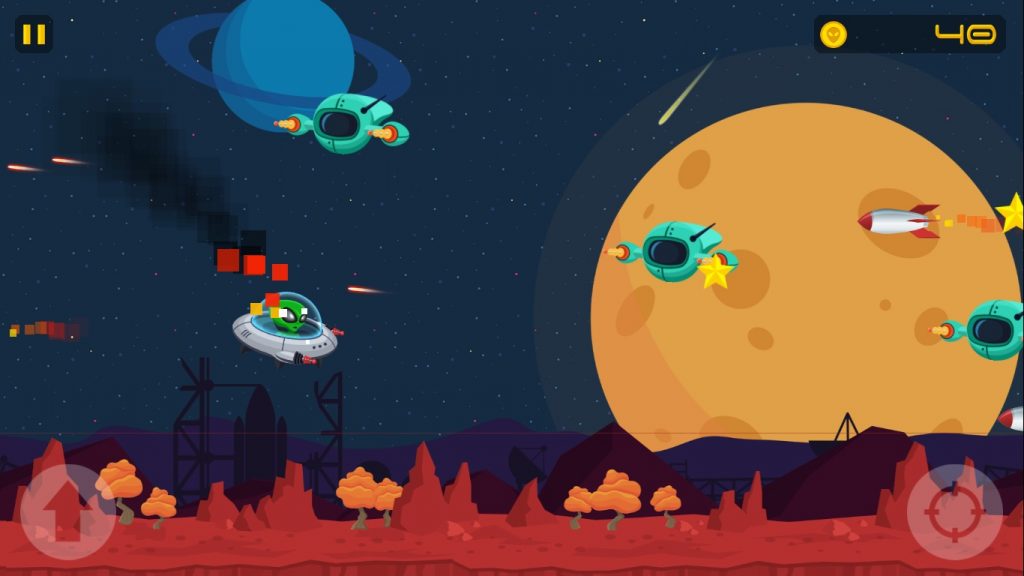 1. Make sure you get the grip on the flight key ' Z' and learn how to manipulate or use it so you can make swift vertical movements with that. It is necessary as even if you shoot a lot but not in the right direction, it won't help. Also, not dodging and moving will get you to destroy your space shuttle in fewer seconds. So you have to devote yourself towards the learning curve.
2. Do not miss the extra bonuses like stars and armors to get in your way. It is going to get you the scores with that you can go further through different levels. The green armor is there to give you the protective shield for a while where you won't be affected by any bullet or attack.
3. You can trick play the game and use some specific spots to avoid most of the attack towards you but it requires some attention as you might be get cornered as well. You can use the top left corner space for example.