Action Game: Best Website For Action Games 
If you are looking for a website ideally great for action games only, Actiongame.com assimilates a wide range of action-based games even within subgenres such as action-adventure, action-shooting, war, action-platform and much more. They are mainly focussed to prove action or at least action-based games in different areas. The web interface is simple and not bombarded with advertisements.
Zombie Butcher: Best Website For Zombie Games 
Zombie Butcher features an exciting and limited collection of zombie games in different subgenres. The zombie games are into shooting, action-adventure, strategy and so on. The website is fast, easy to load and without any advertisements embedded in the game. You will find some other online games along with zombie games as well. Don't forget to play Zombie Buster and Dead City, they are the best.
Miniclip: Best Website For Adventure Games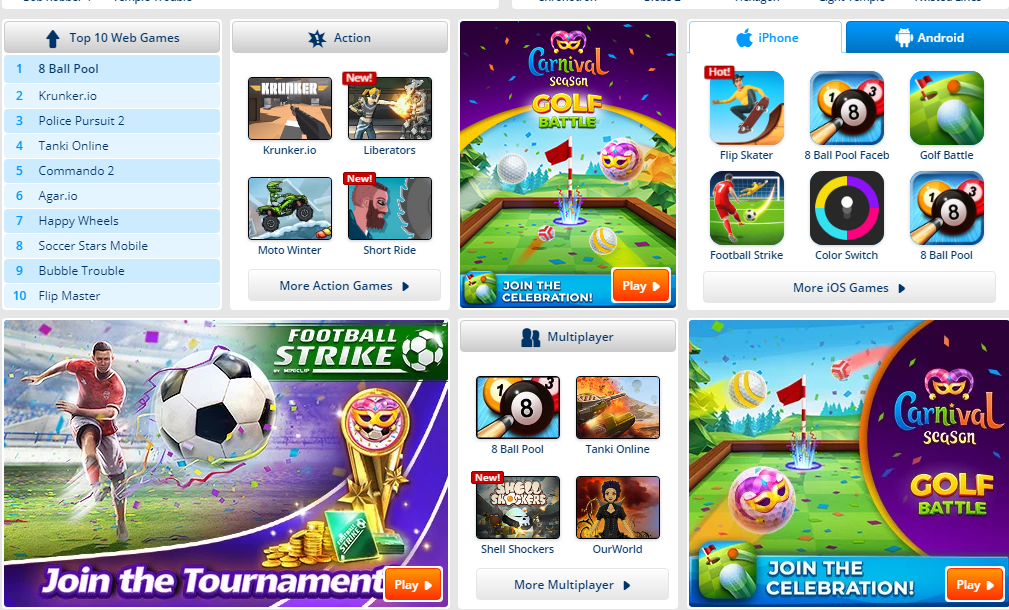 Miniclip is currently one of the best game website presenting a plethora of games in distinctive genres and categories. They also have categorization according to the preferences of the gamers. Their categories are really tempting to indulge in online gaming. Also, website gracefully taps into your mind to find what kind of games you really like to play.
Go Strategy Games: Best Website For  Strategy Games 
Go Strategy Games is a very cool website considering the range of strategy games they have to offer. The games are pretty much simplistic but yet complex to play and win. It is a great way to put your mind in the gym for a change. They also have some classic strategy games such as Blackjack, Tic Tac Toe, Battleship, and Chess as well.
Retro Games: Best Website For Classic Games 
Once you enter in the retro games, there is no way out. The website is too much tempting, one of the primary reason is they feature all the Nintendo NES classic games, SEGA games, 8-bit games, popular 90s video games, arcade games and what not. It is one heck of a nostalgia you will be feeling. The website also allows you to search for games in alphabetic order.
Maze Cracker: Best Website For Puzzle Games 
Maze Cracker is the best place to go when you are looking for a challenging and puzzle games. The website interface is efficient, simple and without any loads of ads or plugins which is a relief. They have all sorts of the puzzle, strategy, challenging and fun games to play at one place. You must try games such as Angry Fish or Angry Aliens which are adaptations of the popular game Angry Birds.
Koi Kiwi: Best Website For Environmental/ Ecology Games
Koi Kiwi is a kind of unique theme-oriented website which is hard to find. It is also ideal for kids, especially when you aim to understand the significance of the environment or ecology. The games are theme-oriented on the environment but still very cool, engaging and fun to play. Some games such as  Environmental Trivia, Eco Tower, 3D Pollutant Maze, and Recycler bird should not be missed.
8Bbit: Best Website For Platform Games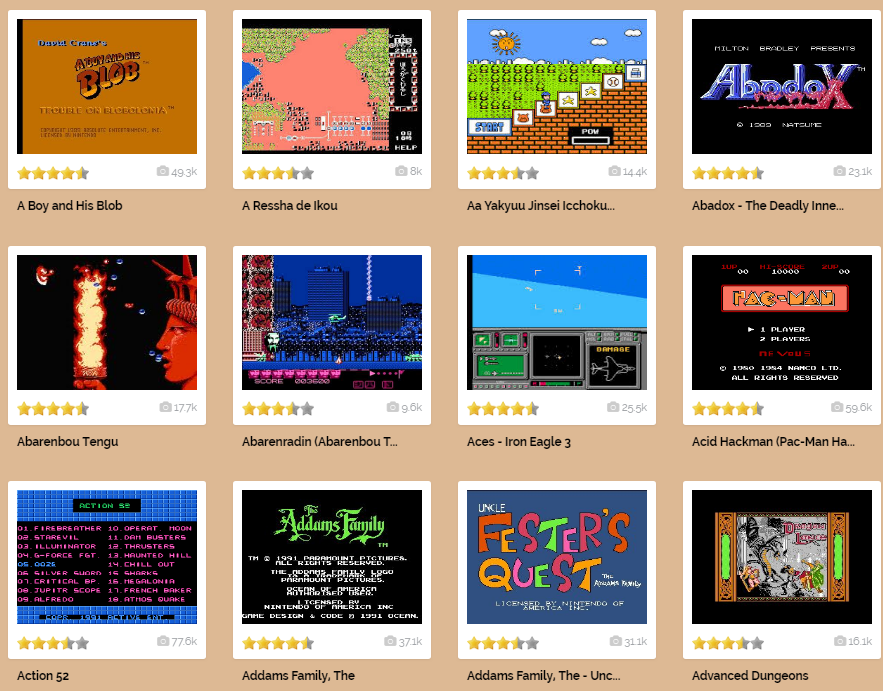 8Bbit is another a huge database oriented online gaming website features a wide array of video games, NES games, and arcade games. They have a great collection of all the platform and adventure games which you won't find much around anymore. It will let you play popular games like Adventure Island, Bomber Man, and Castlevania.
Agame |  Addicting Games: Best Website For Sports Games
Online Sports games are often hard to find as better games are accounted for PC or PlayStation versions. But you do not need to be dishearted as there are few websites such as Agame and Addicting Games featuring a huge range of sports games. They are among the popular gaming websites online, quite credible as well.
Go to Agame Now >>>  |   Go to Addicting Games Now >>>
Games Freak: Best Website For Racing Games 
Racing games online are also tough to get, mostly the good ones. Game Freak seems to be precisely offering the racing games only and that in different subgenres such as Car racing, Bike racing, Dirt Bike racing, shooting, arcade and more. It is such a great place to get hold of some real fun racing games online. Their highest rated games are like Grand Prix Hero, Clear Vision 2,  Hard Crash and so on.