Concept 
The concept of the 'Viking Escape'  is based upon a Viking which is trying to find his way out in the dark woods fighting against various evils, goblins, and enemies. Viking Escape is a side-scrolling platform adventure game where you control the Viking who is exploring the woods on a dragon and can shoot various kind of weapons. Also, the dragon can throw fiery flames to destroy the enemies trying to harm the Viking.
Design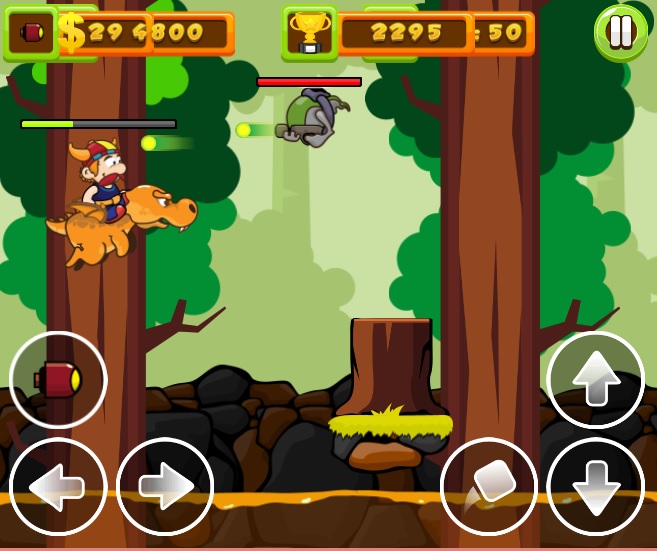 The backdrop of the game is obviously in the forest, in the dark woods through which Viking is traveling through.  The game is quite well-designed to create an atmosphere of forests with a lot of trees, wooden bridges, flowing water, wooden logs and much more. Some detailing in the game whether it is flowing water or wooden log rope-tied bridges add really great texture to a graphical view of the game. It is a side-scrolling design with the auto-moving protagonist where you need to survive the attacks of the enemies and destroy them before they do. The characterization of the Viking and all the enemies are extensive and quite detailed. The design is not just limited to the characters, their distinctive powers, and surrounding but also the various bullet fires which are quite unique to find.
Gameplay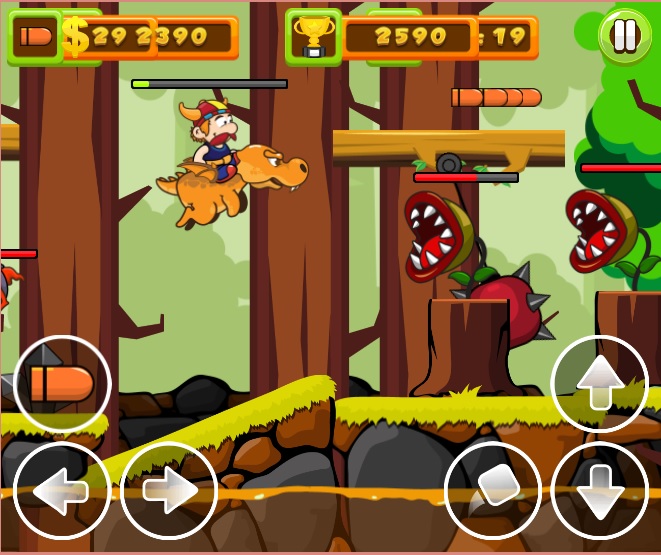 The Viking on the dragon is marked with a limited life juice and so the enemies as well. The primary goal of the Viking is to escape the forest fighting against all different kind of enemies including goblins, giant monsters, big-teeth flower plants, and flying enemies as well. You can use LEFT, RIGHT, UP and DOWN keys to move the Viking on the dragon in all four directions. You need to use various kind of fire weapons to kill your enemies before you came to contact with. You are supposed to keep throwing bullets or fires to them so that they lose their energy juice and die eventually.  There are a lot of other elements around with which you must avoid the contact such as rocks, wooden pointed logs, and even ground.
Character & Villains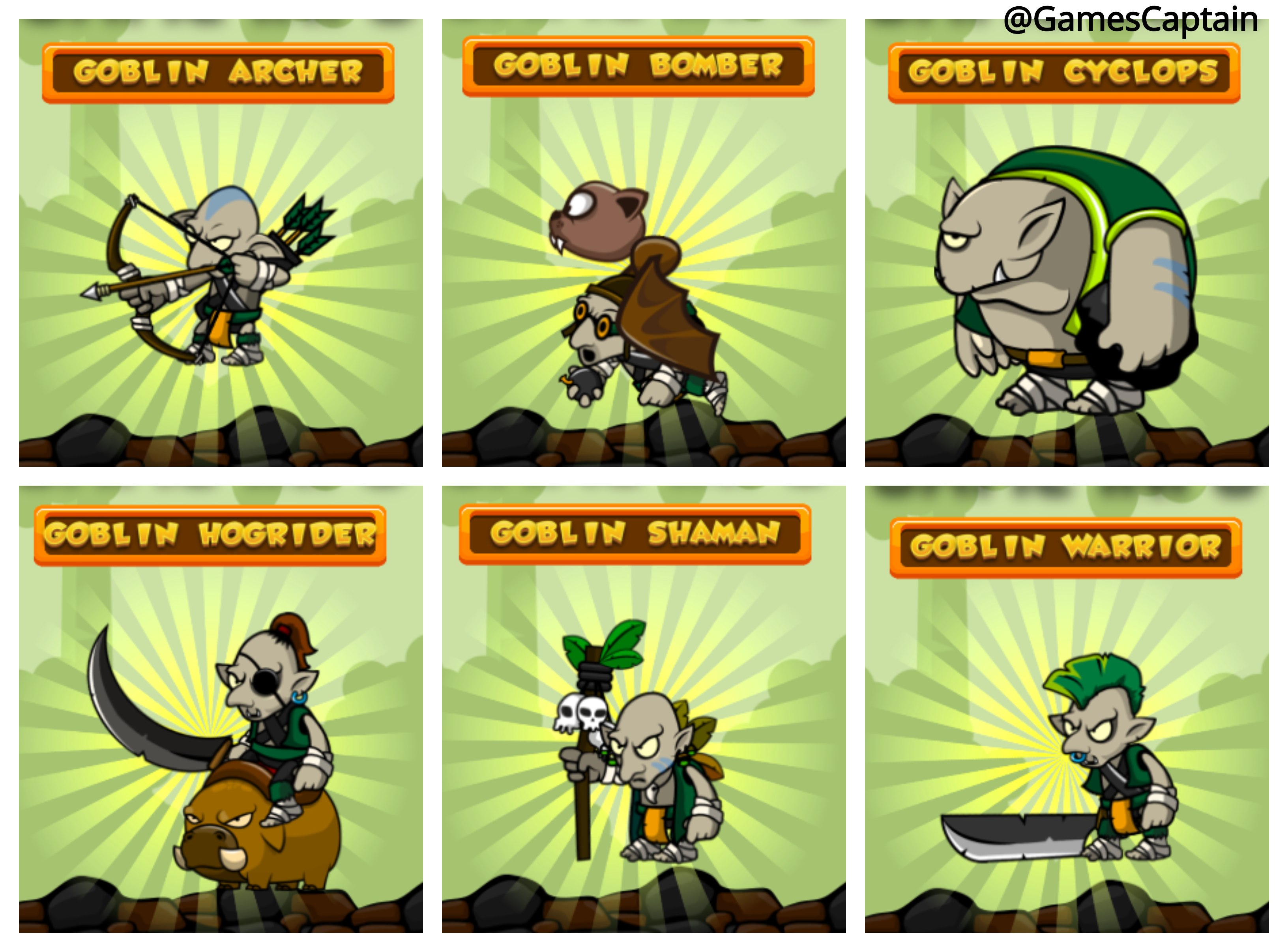 What special about the game is, it has reached to the conviction putting efforts to specifically design the enemies and character with their unique power or attributes. There are primarily 6 types of Goblins in the game such as Goblin Archer, Goblin Bomber, Goblin Cyclops, Goblin Hogrider, Goblin Shaman and  Goblin Warrior. Each and every goblin enemy has a certain set of powers or attributes against you like Goblin archer can throw arrows to you, Goblin Bomber will throw bombs at you and Goblin Shaman has green energy, some mystic power to lower your energy juice. Goblin Cyclops is giant enemy throws big stones at you which does maximum damage to your health.


Apart from those 6 primary enemies, you will also see these flying enemies which are different in nature, speed and power. There are 10 types of flying enemies you will encounter in the game with different types of weapon. Some of them have laser guns, some throw blades at you, few also shoot fires and so on. It is great to see the kind of conviction brought to the design of the game, especially the different kind of enemies.
Elements
Not just that, there are some elements in the game apart from the background and characters which affect the game and Viking as well. At first, there are some takeaways which are good for you such golden coins to increase your points. There are also diamonds placed on the ground or other elevated levels. You will also find some boxes with different gifts or points. Sometimes you get an extra life or sometime you might find some extra stock of the weapon. There are eating plants which are equally dangerous like other enemies. Another essential element in the game is the kind of fires you can shoot. There are seven types of bullets or fires you have to shoot, which is really insane.  First, at default, you got this rounded blades to throw, then you also have a bomb to throw is more like having some mass to fall in a direction instead of aimed at something. You also have four types of bullet different in appearance, not much in nature. The blue colored rocket-like bullet causes a mini-electricity explosion every time it hits the enemy. You can also throw fire bullets as well. At last, you can use your dragon to throw a huge fire sprays to the enemies.
Instruction
Use LEFT and RIGHT keys to move up backward and forward in the auto side-scrolling game. Try to constantly throw fires or bullets to avoid contact with enemies. Use SPACEBAR to shoot. CTRL key can be used to change the type of bullet, it can be according to circumstances or type of enemy you are dealing with. UP and DOWN keys are used to move up and down to avoid contact from your enemies. If you cannot kill all, avoid the contact and their fired bullets.
Tips To Play
1.  Keep throwing bullets/fires simultaneously by moving up and down, so that bullets go in all direction to eliminate the enemies or at least lower their health.
2.  Try to mostly be at the top of the screen where the threat is minimal and move in a certain space only.
3. Don't try to kill all the enemies, it increases the risk of you getting damaged or risk your health juice.  Try to get away by killing only those who are in your way or coming in contact.
4.  Try to take all the points and boxes which may increase your life or give you extra health juice.