Concept 
The basic concept of the game ' Boy  Adventurer' is quite evident in its name itself. You control the young adventurer boy who seeks out to explore the jungle and find new places to go. You find the young lad with a cowboy hat and big boots collecting gold coins. Apparently, it seems the jungle is also filled with zombies and mummies from which he needs to be protected or fight. The great aspect of the game is you as a gamer do not know what's coming next and that makes it a true adventure game
Design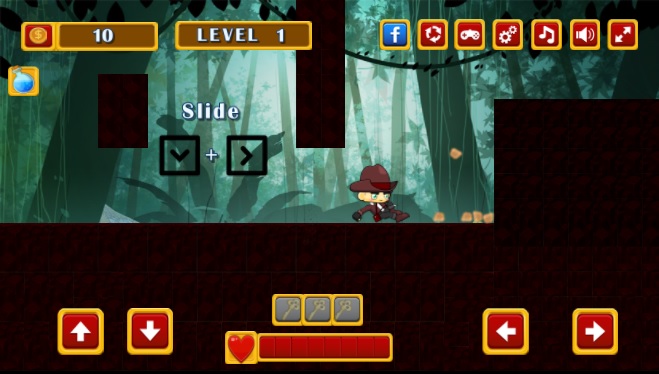 The graphics are utilized in the game to create a surrounding jungle or forest with an intense background of trees, mist, and bushes. The boy is traveling through or above these caves or rocks beds structured in puzzle-kind of the way to explore. Even further there is a narrow tunnel-like structure where the adventurer boy needs to slide in. The structure of the rock beds posses various threats, gold coins, keys, zombies and much more are distributed in levels which seem to be extensive.  Sometimes the fall is not the fall but the way to go down at a certain stage where you find more gold coins or keys and even a cave. Though that happens after the second level. There are also moving metal open lifts, unstable small rocks in the air, wooden bridges, diamond rocks and apparently a rocket-like machine ( for some reason). It is possible there to throw it at the zombies. As an adventure game, there is always much to explore in different levels, so it is quite appreciatable of the developers.
Gameplay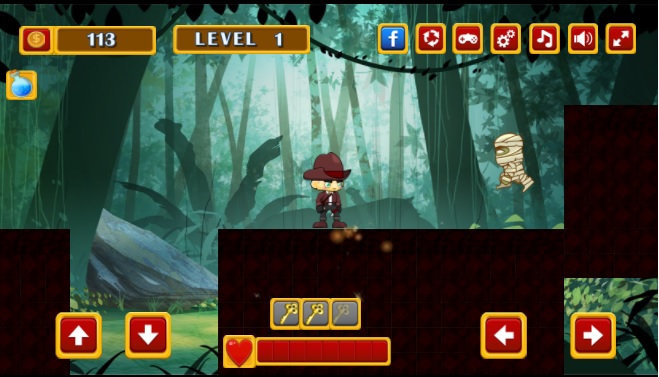 The Gameplay of this adventure side-scrolling game is pretty much straight. It is to keep moving forward and exploring new ways and complete certain tasks such as getting the golden keys, collecting coins and getting formula and more. In its core, you suppose to survive in this exploration, collect what is precious and protect yourself from the zombies and falls. You can use arrow keys ie, LEFT and  RIGHT to move backward or left and forward or right. Use UP arrow key to jump. The first level pretty much explains and instruct you about how to play and how to use keys to move around. You can also slide by using LEFT+ DOWN or RIGHT + DOWN on the horizontal plane. Collect all the golden coins to increase your scores at the end of the level. In every level, your primary goal will be to collect all the golden keys distributed in various corners or spots of the game. You will find a lot of zombies and mummies around where you can jump on them to kill them.
Tips to Play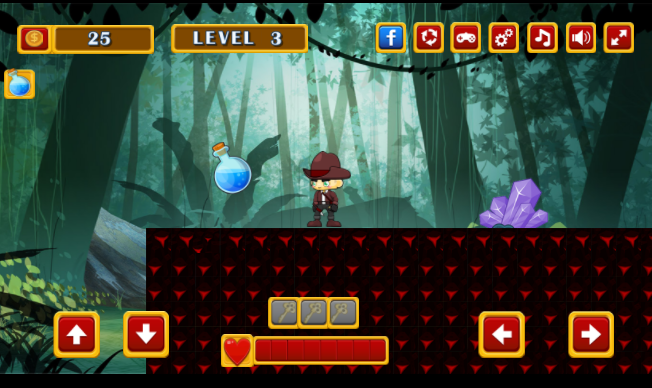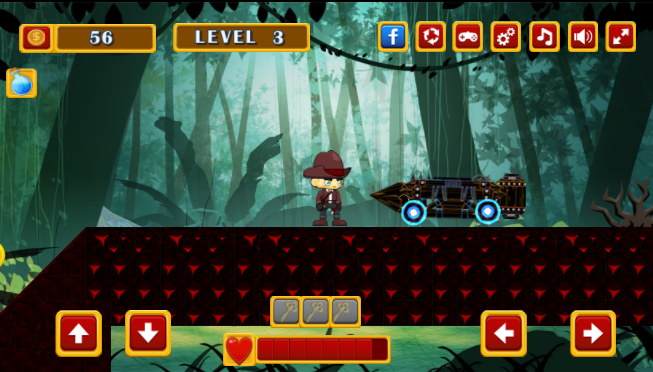 1. Always remember to collect all the golden coins to have a high score at the end of the level.
2. It is recommendable to get used to all the movements so you can be more efficient throughout. You may face a problem with jumping, especially on the falling rocks hovering in the air. So beware in those cross-sections of the game.
3. After level 2, you will find the falls to not actually fall but a way to go down where more keys and gold coins are there. But make sure you are jumping in the way down, not actual falls. The best way is to learn and remember while playing so you won't do it again or the next time.