About the Game 
Exolon is a popular run and gun game developed by Raffaele Cecco and published by Hewson in the year of 1987. So this classic 8-bit game is a real popular back then. The game was primarily for Sinclair ZX Spectrum, Amstrad  CPC 8-bit and Commodore 64 bit but later converted to be played in Enterprise 128 and also the 16-bit Amega & Atari AT devices as well.
Design 
Exolon is designed in the backdrop of space with a lot of futuristic setting whether it is the soldier, the protagonist or the flickering screen levels, the machine aliens and other out-of-world weaponry systems as well. Well, in that limited classic graphics, plenty of colors has been utilized as well, so it quite feels like the 80s and 90s era of technicolor gaming. The design does remind you of those classic gems on pre-modern gaming era as gamers know today. There are different types of aliens attacking you whether there are flying ones or the rocket bullets towards you and even the giant canon taking shots at you continuously. It is one of the most popular graphical representation of that time. Not so great comparative to today's graphic for sure but one not actually complain about it. After all, the classic is classic.
Gameplay 
The gameplay of the Exolon is about this mission of the futuristic soldier which you controls moves around in the various flick-screen levels. There are a lot of generic aliens, various potential threats and bullet. One bullet is enough to make you dead in the game. There are a lot of gun fires, attack from flying aliens, landmines, homing missiles and what not. The adventure is always at the players' feet to explore it. There are a lot of constructions, alien ships, advance auto-weapon system, rockets and satellites you need to destroy which can be only possible by using grenades, not the bullets. You have only a limited amount of ammo, grenades, and lives as well, so you have to be certain about it.  The jumps are quite smaller so its hard to tell where it is benefiting. The initial levels are tough, more than that these are tricky.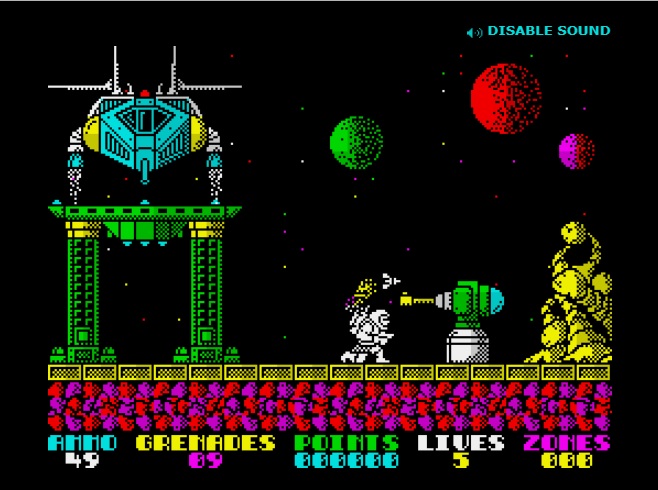 Instructions 
Use SPACEBAR to shoot bullets whereas the arrow keys such as LEFT, RIGHT, UP to move left, right and jump. You can use the DOWN key to dodge any attacks or bullets. Make sure you move strategically because anytime a potential threat, a bullet or rocket come at you. You must dodge whenever the bullet from the weapon system shoot at you.  There are certain elements which are not affected by gun shoots so don't waste your ammo on that.
Tips to Play
1.  Dodge is an essential move in this game as it helps to tackle or avoid any straight bullets coming from weapon systems or any potential threats on a certain height. So use it smartly and especially in the first two levels or zones where you need to wait when bullets are not fired and walk slowly near to the weapon system. Until the bullet goes, you have to remain in a dodgy position.  You can repeat the same until you reach at the proximity level, enough to throw a grenade to it.
2. You must know that there are a whole lot of elements in the game which only can be destroyed by the grenades, not bullets and for that, you also suppose to be at some proximity levels. There are even some satellites or machines which you need to destroy in order to move further.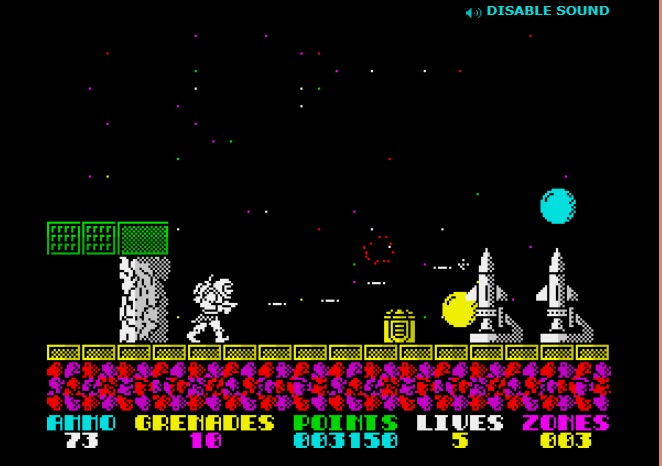 3. Remember you have only 99 Ammo, 10 Grenades, and 9 lives when you will start the game. You will do get some occasional powers to reload your ammo or grenades. But make sure every bullet counts. So there are only a few constructions or elements on which bullets work, so before bombarding with bullets, first, see whether it affects or not.
4. It is for sure a run and gun game but it requires some form of calmness and strategy to walk through the levels or zones without being killed.