Everybody loves Hulk! It seems like we all have one inside us, metaphorically speaking. The hulk is very much known for his anger and rage which can seem translated in the damage he does. It can be good and bad too, as you have read in comics or seen in movies or animations. But smashing things up like it is nothing, that is something everybody loves to see. So here are some hulk smash up games to play.
Incredible Hulk: Save the City
Incredible Hulk: Save the City is a 3D simulation game where you will be controlling the hulk in the midst of the city. You are supposed to perform a certain task which includes causing damage to these unknown cars in the street. You can also lift some particular things like a jeep or a car in next further levels and throw to cause the damage.
Play ' Incredible Hulk: Save the City >>>
Hulk Central Smash Down 
Hulk Central Smash Down is happening right in the middle of the city, on the street where the Hulk once more lost it. He just goes Smashing up mood towards these crazy alien bots surrounding the city and the streets. These alien bots are moving quick fast and shooting rays which are affecting your health. Using mouse cursor and clicks you need to constantly jump and smash these aliens preventing being shot by them as well. There is a tiny map or screen where you can see the red dots, those are the aliens surrounding you and in middle, you are the green big dot. This grid may help you to know where these aliens are around you and when you are supposed to jump.
Play ' Hulk Central Smash Down' Online >>>
Hulk Smash Up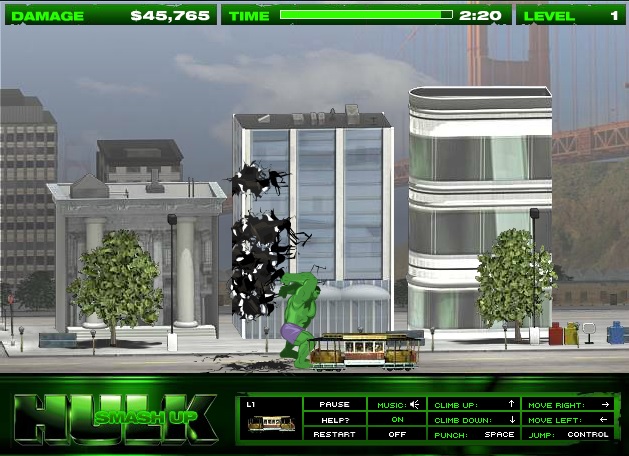 More than a superhero like he acts in Avengers, he seems to be someone who does extreme damage to the city. In this game, he is supposed to do the same. You are going to control this angry hulk where you need to do the maximum damage to the city. Once you destroy everything, you will reach the next level. It is quite fun to destroy things, in games and as hulk obviously.
Play ' Hulk Smash Up' Online >>>
Hulk Bad Altitude
Hulk Bad Altitude is big different kind of Hulk smashing online game, here instead of smashing things on ground, buildings or cars, you need to hit the aliens flying up in the air. For that, you need to get filled with rage as in power to make the necessary height of the jump. By hitting these aliens in the air on jumping over them, you can constantly move upwards. Use arrow keys to move in the air while doing the jumps, so you have to kick more numbers of aliens above for better score.
Play ' Hulk Bad Altitude' Online >>>
Crazy Zombie 7 (  Hulk )
Crazy Zombie 7 might not sound as ' Hulk ' game but trust us, it is one of the best hulk games out there. It is also because the game very beautifully put nuances of Hulk and detailing in the visual character of it. It is basically a popular retro classic video game featuring various characters to choose for the street fight against the wave of zombies. Hulk is basically one of them. You must try this game if you want to thrash zombies in a 'Hulk' style. What makes the game even more interesting that there are various moves you can pull out with combinations of keys.