If you are constantly looking for superhero games online which are best to play and especially DC superhero games, you have come to the right spot. A lot of websites feature superhero games but most of them are not good, you have to cherry pick them. Already feel tired? Well, here we have done that for you, find here the best 5 DC superhero games that you can find online.
1.Batman: Shadow Combat Game
Batman: Shadow Combat is a well-designed high graphics online Batman game to enjoy for hours. What's interesting about this Batman game is the factor that how the shadow is your power or ally in the game. Batman invaded in an enemy zone where he supposes to hide and fight both. You control the batman who can hide in dark and then suddenly attack the enemies when getting close. It is one of the best batman adventure game as there are so many levels where the challenges will be more complicated.
Play ' Shadow Combat'  Online >>>
2.Superman: The Theme is Aliens 
Superman: The Theme is Aliens is a 3D online game where you control Superman flying in the air which is so cool and spectacular to watch. In the game, you will be given various task whether to apprehend the culprit or save someone in the city. You also have a laser beam in your eyes the same as Superman does. It is a great way to experience the city as a superman and experience what it likes to be one.
Play ' Superman: The Theme is Aliens' Online >>>
3.Green Arrow: the Last Man Standing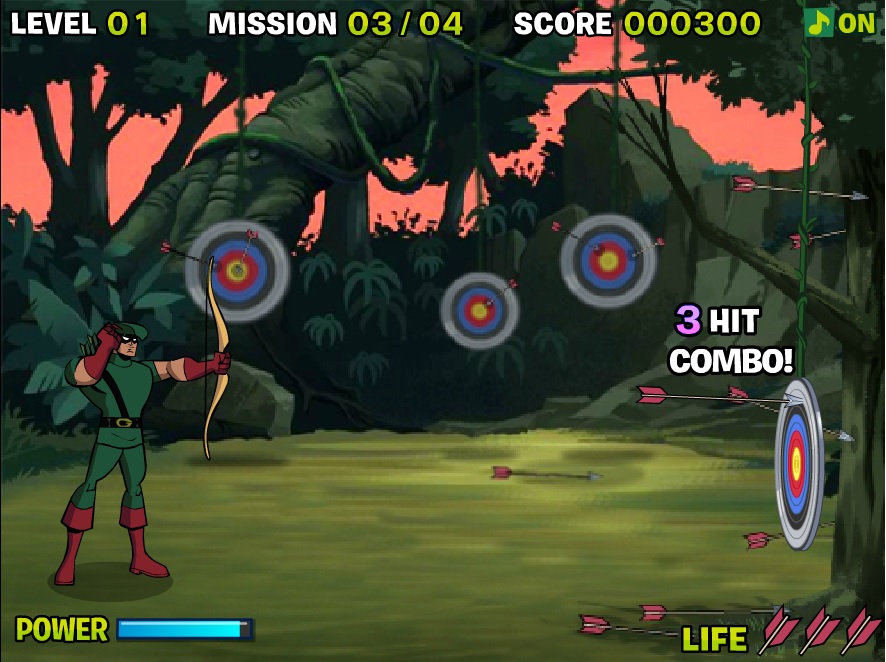 Green Arrow is a well-known vigilante hero in the DC universe, especially after the CW show ' Arrow'. If you like to know what it is to be doing target practice with bow and arrow, the game is for you. The classic cartoonish green arrow with green hood is doing a target practice where he supposes to hit at the right spot, also the target is moving in a horizontal path. All you have to decide is aiming, the power to shoot and the right timing to it.
Play ' Green Arrow: the Last Man Standing' Online >>>
4. The Flash ( Sega) 
Another highly popular DC superhero, a speedster who called ' The Flash' also named as the fastest man alive. This game is old, classic and popular Sega video game featuring flash against various enemies on the street. You will be having super speed and a thunderbolt to shock down the enemies. Use lightning speed to dodge from enemies and hit them instantly. The Flash is a very engaging game which includes so many levels and different kind of enemies throughout the game. If you are a true Flash fan, you will notice a lot of things and some particular stuff which you can relate to as well.
5. Aquaman: Defender of Atlantis
Aquaman is supposed to defend the Atlantis and that's what we seem him in the comics, movies, and animations. Here as well, Aquaman is supposed to attack the enemies who are the evil force of Black Manta and protect the layer behind him. It is quite an addicting game once to stick to it. Every level comes with its own set of enemies. First, it is sharks, after a few levels, there will be men from Black Manta and so on.
Play 'Aquaman: Defender of Atlantis