Design 
The basic design of the game is visually appealing and that you can see the moment it starts with title credentials. The kind of graphics which seem like well-made animated shorts is one of the best graphics out there for freeware online games. Knight Diamonds is the game with effective and eye-tonic graphics featuring this cute little warrior protagonist against other tiny skull enemies. The characters are not just well design but also looks funny and quirky in a way. It is set with a background of ancients constructions made up of rocks. With a constant level, it slightly changes and so the interior and obstacles as well. There is a detailed designed treasure box with a blue diamond which you suppose to look for, the coins, boxes and other spikes like elements are great.
Gameplay 
The gameplay of Knight Diamond is very much straight and simple but it's not as easy as it may seem earlier, especially after few levels. You control this tiny warrior with a huge head and sword in pursuit of finding the treasure box consisting of the blue diamond. Once you get the blue diamond, the gate for the next level will be opened. Without it, you cannot pass to another level so you may skip all obstacles and gold coins but not miss the blue diamond, that's the key. There are various obstacles against you in your mission to surpass the level. You have to fight against these tiny little skull-head warriors who also have swords. Use ARROW keys to move LEFT and RIGHT, also the SPACEBAR to attack these skull-head enemies. Use UP arrow to jump on elevated rocks to get gold coins and boxes hiding more points. Use your swords to open up the treasure box or break the boxes to gain the points. Once you cross some levels, another character for the protagonist will be unlocked for you to choose. This guy will be faster than the earlier one as it mentions while selecting the character.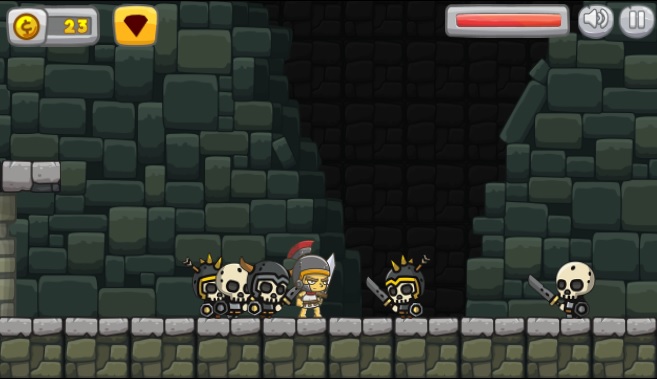 Instructions 
Use the LEFT ARROW and RIGHT ARROW to move left and right in the game. Do understand the speed and pace of your character to play the game efficiently. To jump use UP ARROW and UP ARROW +  LEFT/RIGHT ARROW keys to jump in a certain direction. SPACEBAR key can be used to attack the enemies, also to open up treasure box or wooden boxes.
Tips to Play
a) Don't forget to pay attention to the timer which is set to 2 minutes, so you have to reach out to the gate with a blue diamond.
b) You can actually skip some distractions like gold coins or even the warriors by jumping over them and find the blue diamond, so to quickly for the next level. This can be the best scenario to cross the level without getting the time-out.
c) Try maintaining distance from these tiny skull warriors as you will lose your health juice as long you be in contact with them or any other obstacle resulting in 'game over'.