Design
The very design of the game so simple and easy-looking that you won't really think of it as a tricky game to play as it is. Flies Killer Game is set in the kitchen where you see these flies attacking a green rat or something which is the protagonist you control. They are flying in the kitchen up against you, attacking with their poop, yeah disgusting! The overall design of the game is quite simple and stagnant to one frame. It is more designed like a shooting game.
Gameplay 
You control this green small creature with a gun or a thrower apparently through which you shoot a white ball at the flies because why not? The flies seem quite irritating where they are also attacking you with their poop. You need to dodge and protect yourself from getting in to contact. On both sides, you and those flies have a life expectancy which reduces according to how much they come in contact with the opponent's thrown balls. As per you only have 5 lives in earlier stages where every time you hit the poop balls or come in contact with poop balls, you lose one life. You can see that in the top left corner mentioned in the heart. On the other side, there are a different number of flies in every stage, each fly has a green life meter which reduces every time you hit them. Once they run out of the juice, they will die. In that way, you can kill the flies by kept on attacking and also dodging the poop balls as well.
Instructions 

You are just supposed to dodge the poop balls thrown at you from the flies and keep moving. Use the LEFT arrow key and RIGHT arrow key to do you left and right movements. Use ' UP' arrow key to shoot the white balls at them to reduce their life juice and kill them.
Tips to Play 
1. You have to understand the patter of the flies shooting the balls. In earlier levels, it is just about shooting them in any way possible, surviving the attacks. They shoot at a certain frequency, intensity and timing, once you get that, you can beat few levels but still, you need a lot of gameplay practices on it. It is really that kind of game which take your time and test your patience about whether you can win it or not.
2.  Avoid the corners, especially to stay there even more than 3 seconds. Use it just to go and come back because once you remotely go the corner, they attack you constantly at a point where you lose all your lives at once. Only a certain area of the space you have is safe to play at, rest you just have to use it as to-and-forth spot.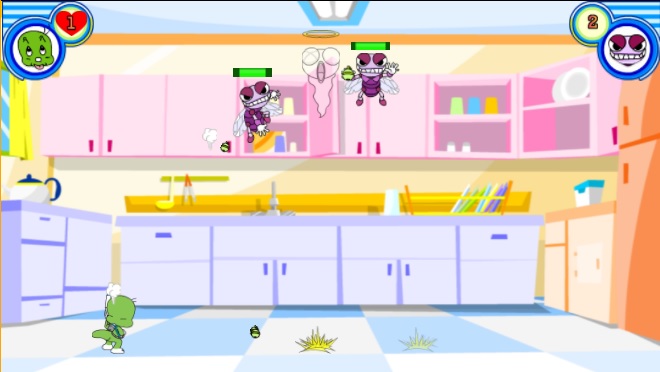 3. Understand the flow and intensity of the poop balls thrown at you, decide the to-and-forth movement instead of just getting a random run from here and there, that won't work.
4. As soon as the game is open, have the moment and shoot as many white balls at them because there is a window or space for a while where flies do not attack but then, don't get caught up and dodge immediately. But that will leave one fly with less juice left so it can be taken out easily with few more shots.