If you are someone who is not much into online gaming or even any sort of gaming but looking forward to trying it out, you should start from websites or gaming portals easy to deal. There are uncountable gaming portals on the web. So if you are just going to start by random searches and browsing, you may not get what you really looking for. You even might be exposed to over-stuffed websites or troubled with a lot of advertisements and pop-ups. It can ruin your first experience. But we got you, here are some really awesome websites from where you can easily start your online gaming experience.
Addicting Games 
Just like Miniclip and Kongregate, Addicting Games is among those most popular gaming website with premium games and a variety of categories. The website claim to be offering more than 30 categories which enhance your game browsing, hence game playing experience. Their categories are quite concentrated and focussed like High School Games, Political Games, Fun Games, Girl Games, Puzzle Games and much more like that. It is easy to find what you like.
Crazy Games 
Crazy Games is like a huge pool of online games ranging from all type. There could be some which you might do not like or follow but there are a lot of them which are super awesome and even some least to get anywhere else. So their database is really strong and rich. It can be also a fun website for kids as well.
Zombie Butcher 
Zombie Butcher is an online game website which is focussed on the genre or category of zombies. Though they have a limited number of zombie games all are engaging, different from each other and also with unique sub-categories as well. You can play Dead City like a zombie shooting game or can play zombie adventure game like Dead Land Adventure. Then, you must not miss playing Zombie Buster, it's really cool.
Go Action Games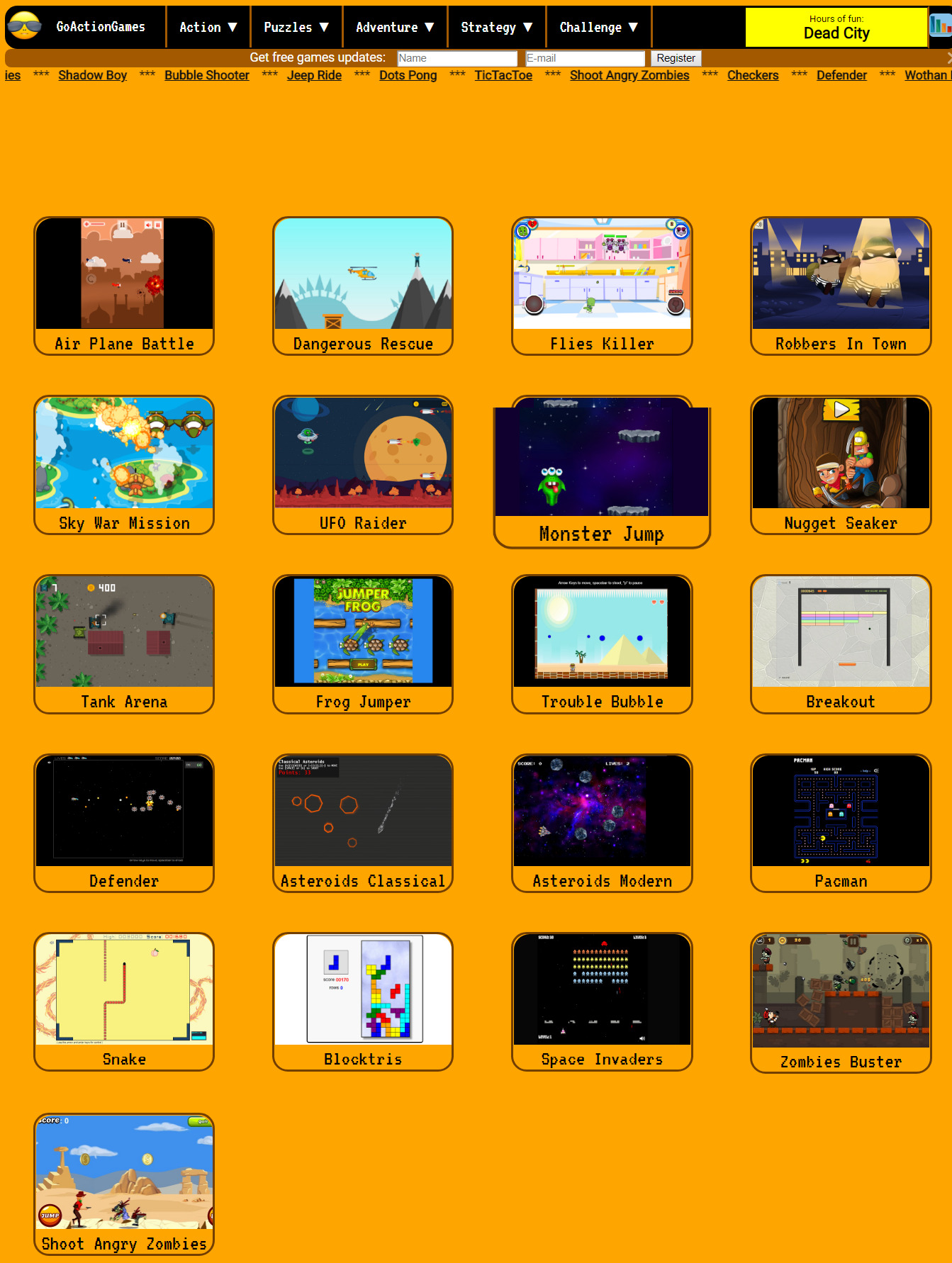 Go Action Games presents this great plethora of action games plus some other categories as well. There are a limited but excellent collection of online action games, unique and different at its sub-genre along with other categories like Puzzles, Adventure, Challenge, and Strategy. Some of their fine games you can enjoy are Robbers in Town, Monster Jump, Tank Arena, and Shoot Angry Zombies.
Armor Games 
Armor Games is a quite popular online gaming website, one of the primary choices for internet gaming. They have plenty of shooting, action and adventure games which are the best to go for. Rest, they do have a wide variety of games categorized and placed on homepage according to their popularity, newness, and preferences as well.
Go Strategy Games 
Go Strategy Games features a different kind of strategy-based online games where more than thundering fingers on the keyboard, you need to be patients. You find strategy games on most of the other gaming websites but this offers you a sophisticated and collectible range of strategy and puzzle games. The games such as Battleship, Chess, Blackjack, and others are quite challenging and strategic to play.
A Game 
A Game is an online gaming website which you find among the top searches when you look for online games. Well, if that happens, do not hesitate to go for it, as it is quite engaging game portal to spend your time. A game features ultra-simplistic interface with accessible categories to look for. This makes you find the games you like very easily according to your preferences, choices, and styles.