Old, Classic and those vintage games are never going to get old. If you don't trust that, just try these some fabulous easy-to-go websites with a lot of classic video games. Either you will go into a deep nostalgic ride or reconnect with highest played games of those times. There are a lot of games you rediscover on these portals or if you are yet to expose to those contemporary games, here is your chance. Do know that you might get a lot of websites online for classic or vintage games but only a few of them stands out for your attention.
Retro Games 
Retro Games is one of the potential gaming websites ideal for playing classic video games online. They have this enormous pool of retro games ranging from Nintendo games to Arcade games. The interface of Retro games is very simplistic, so it doesn't throw you away due to a lot of plugins, ads or extra windows. Retro games consist of categories such as Nintendo, Sega, NEC, Atari, Arcade and PlayStation.  The game player windows are quite efficient and easy to go for without any errors.
Go Cool Games
There is something unique about the Go cool games as they have a certain selection of those classic games, some modern version of the old vintage games along with some really cool collection of video games. They have plenty of classic old arcade games such as Pacman, Snake, Blocktris, Breakout, Space Invaders and more. There is another whole range of categories such as action, adventure, challenge, and zombies. Most of the collection they have is quite easy going but highly engaging online games, easy to play anywhere, efficient to load on a website and faster than any other seen.  On one side you are getting this buffet of online games in different genres along with classic and vintage selective.
Old Game Shelf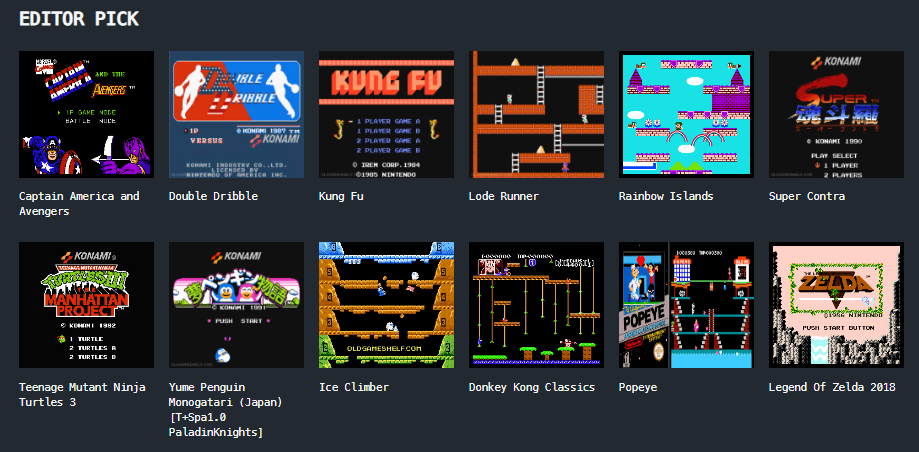 Old Game Shelf is just another online classic games with most of the Nintendo NES system oriented games but it is again really cool, fast and efficient. As mentioned earlier, you do find a lot of options to play such old classic games online but very few of them are legit, variety-oriented, fast and giving as they promise. An old game shelf is one of them. The video quality and sound effects are great. One advantage with old game shelf, whatever game you played on whichever device, you can turn it off and come back with game resumed from where you left.
8Bbit 
8Bbit games are a great pool of retro NES games with a wide range of 8-bit classic games. This website can give you some serious nostalgic ride to those 8-bit games or arcade games you use to play with your friends. The most iconic Nintendo games, NES, arcades, vintage and more. However, they have classified their games according to their genres such as Action, Adventure, Sports, Shooters, Racing, Hacks, and Puzzles. Next, you will see some suggestive sections like New games, Highest rated games and Most played games to make you go easy and fast. So it is one of the most interactive classic video games websites you might ever saw.  They have pretty much cool collection and some forgotten games like Adventure Island, Bomber Man, Punch Out and Castlevania.
8Bit 
What one can really like about 8bit is their limited collection of old, 8-bit and vintage games embedded in a single screen. So you might don't get a big lot of games at a place but it is better because here you find this limited but really cool collection of all 8-bit games. It is way too old than even those classic games hit the ground. So you might lot of games here you never heard of or least heard of. The website interface is super-simplistic and efficient, so game initiation is quick and without any glitch.