Hangman is one of those game where you cannot just enjoy but also learn new words. It's most popular especially when you are stuck somewhere and want to pass some time but don't know what to do. Hangman is designed to be easy to load, interesting and for all devices. However, if you want to explore more versions, then here is the list that you might like to play.
Sweet Hangman
Sweet Hangman is one of those where you get different categories. You can choose whatever you like to play with. But for that, you have to win the levels to get the different categories unlocked. Here you get categories such as food, clothes, animals, etc. Also for guessing the right word, you get words and a cookie like hangman. Choose the right word so you can find out the name without losing too much time.
Hangman 7 
Hangman 7 is simple, easy but challenging at the same time.  The level of difficulty is a little bit high as compare to other versions. Also, the words are more complicated to guess. Apart from that, the game comes with time-limited, and you get limited chances too. Well, if you want to enjoy something which challenges your selections of vocabulary, then this is the perfect game for you to try.
The Hangman Game Scrawl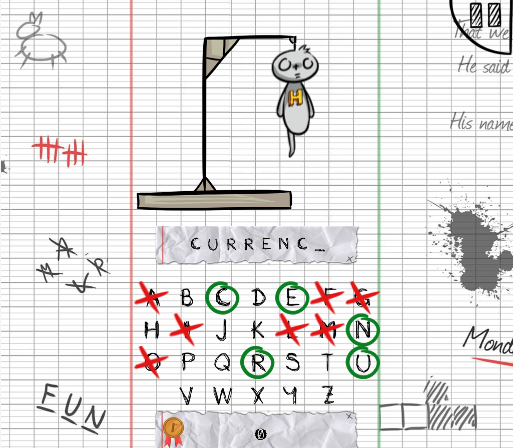 It's one of the traditional based game that use to play on paper.  The game is turned into digital and you can play on your device.  It perfect game if you are going somewhere and stuck in traffic or something else where you want to kill your time. The hangman game scrawl is attractive and easy as well as challenging hangman version for all those who want to try more.
Play the hangman game scrawl here >>>
What's The Word?
There is two option you get, you can play a free game where you don't get the time limit duration. However, if you want to challenge yourself, you can go with timed play too. However, you can use hints if you find it difficult to understand the word. However, it's not like hangman, but it's similar to the environment. You have to choose the right word by the given alphabets. Apart from that, you have to be quick if you are going with the limit time as the time here goes much fast.
1 Sound 1 Word 
Well, its extremely refreshing and new concept based on hangman. However, the game doesn't follow the hangman rules but here you get image and sound on which you have to understand the word. Well, the image is pixelated so see carefully and get the hints about the words that you need to make. Keep it sure you do it fast and smart way so you can get the next level to play. The game is new as well as perfect for you if you are looking for new stuff but don't want to let the true feeling of playing Hangman go.