Commando games have been always popular where gamers love to act inside a uniform of a soldier or a military man, sometimes with combat abilities, sometimes with snipers and machine guns and often with tiny little soldiers in the game as well. Shoot 'em games, action games, fighting games, shooting-adventure games are some game genres serve to this preference or category as well. Here are some really cool commando games which is not necessary to be aim and shoot as well, as lot of people think so or may not prefer. So here are these vibrant and variety of commando games in different game genres to explore and play.
Metal Slug Rampage 3 
Metal Slug Rampage 3 is one of the best commando games ever, it gives you purpose or mission in the city of soldiers and military power against you. The whole street filled with soldiers with guns, knives and rocket launchers is against you. The game is quite fun as you can shoot the enemies above on the building and coming at you as well. To kill a whole crowd of enemies against you, you can throw grenades. There are different types of missions and adventures as well in the game.
Play ' Metal Slug Rampage 3' Online >>>
Commando Assault 
Commando Assault is played on a particular war area where at one side you controls the commando with an army where either side there is the opponent. All you have to do is allow your troops to attack them and start your adventure by shooting the enemies, their automatic gun machines, helicopters, and soldiers. You are supposed to survive towards the end of the area where you will find the opponent's bunker. What makes the game even more fun is you can actually change the guns like shotguns, pistols, machine gun, taser gun, and even the rocket launcher.
Play ' Commando Assault' Online >>>
Meta Slug Run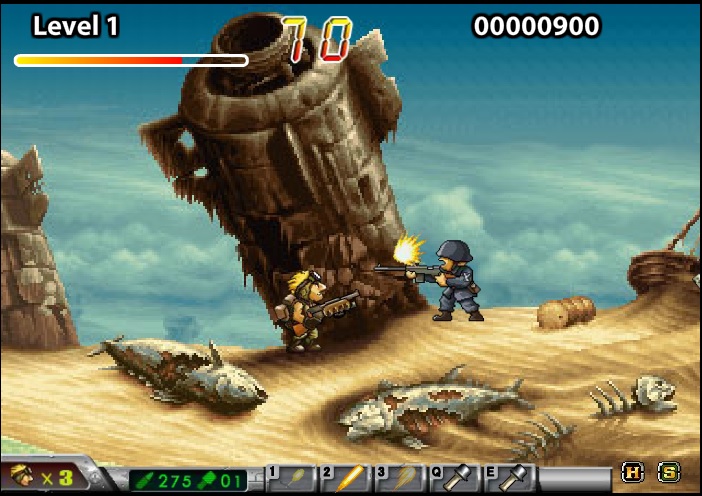 Metal Slug Run is adventurous shoot em up game to play where dozens of enemies attack you with their guns and then there are fighter jets above throwing bombs as well. It is fun to explore new territories and fight a war against them. You are supposed to eliminate all the enemies which include their defense power as well, such as tanks, bullet machines, weaponry systems, and soldiers as well.
Play Metal Slug Run Online >>>
Commando 3 
Commando 3 is one of the coolest shooting-adventure commando game right now where you can either choose a muscular commando man or sassy commando girl as the protagonist of the game. You enter in the enemy's area hiding in their jeep and now you have to shoot them up, just like 'Rambo'. There are a lot of soldiers attack you from all the sides. You can shoot at things as well in the game, blast things up, get medals, points, and so many things. You can even change your weapon like shotgun, pistol, bow and arrow and even knife for close combat.
Army Force Strike 
Army Force Strike is unlike Commando 3 or Metal Slug as it is a first-person shooting game where you are in a stranded island, sometimes the desert and in other situations as well. It is a real-time game where you can join the campaigns or groups to fight against or fight for. Almost give you the feel of counter strike or call of duty. You can either sign in and have a history in the game or log in as a guest as well.