Design
The basic design of the game is quite simple and placed somewhere quite in space. The monster is placed in a space where there are various floating space pavements. Also, various hexagonal golden coins are placed in a linear order. There is a three-eyed green monster which jumps in a very humor-style. The various elements in the game are quite smartly designed such as red asteroids, blue asteroids, spaceships, floating rock tiles, floating platforms and many more. You also find different actions like breaking of the floating rock tiles, monster getting pulp when hit with an asteroid and spaceship movement. The design is customized to make it up-scrolling where the movements of the green monster are well-designed as the jumps.
Gameplay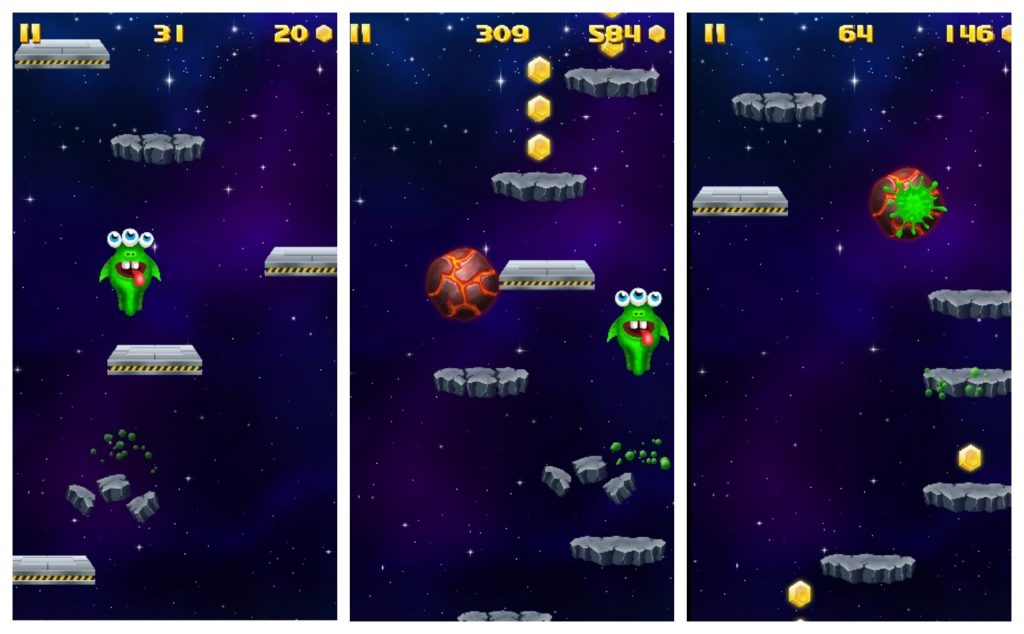 The gameplay is simplistic but yet interesting and highly-engaging as due to kind of attention and involvement the game demands from the players. You control this green not-so-scary monster which jumps like a frog but only upwards. Instead of auto-side-scrolling or running game, it is upward-scrolling where the movement is bound to go up, so if you do not cope-up and manage to jump with these help of tock tiles and moving platforms, you will be left behind after the fall. You are supposed to be constantly jumping and even that is automated, you just have to move the monster so that when he jumps, it get some ground to move forward and make further jumps. That's how he needs to survive. Another set of challenges is that you suppose to be conscious of some threats you get hit of in the way such as asteroid spheres or lava and all. Also, you are supposed to collect all the hexagonal gold coins or points around to score more. Plus, you can shoot too. You can move the monster by LEFT and RIGHT arrow keys for left and right movements. For shooting green small bullet-balls, you need to do LEFT CLICK on your mouse. There is various stuff like red formula, spaceships, and others which are good to get, it will boost you upward and take you to a height.
Instructions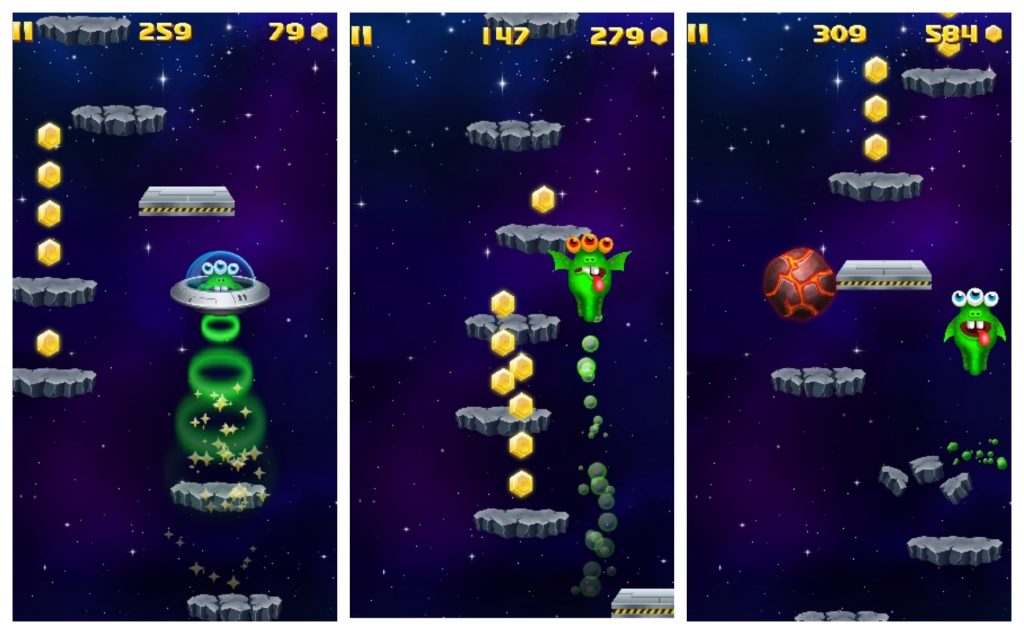 Use LEFT arrow key and RIGHT arrow key to move the green monster when it automatically jumps so he can find further ground or surface to jump again, otherwise he will fall down beyond the screen. LEFT mouse clicks can be used to shoot so you can destroy the threats such as asteroids in their way without you being getting the pulp. Sometimes you can avoid it or just get yourself saved in the way but sometime if you don't shoot or destroy it, you will be strick to a green pulp with it.
Tips to Play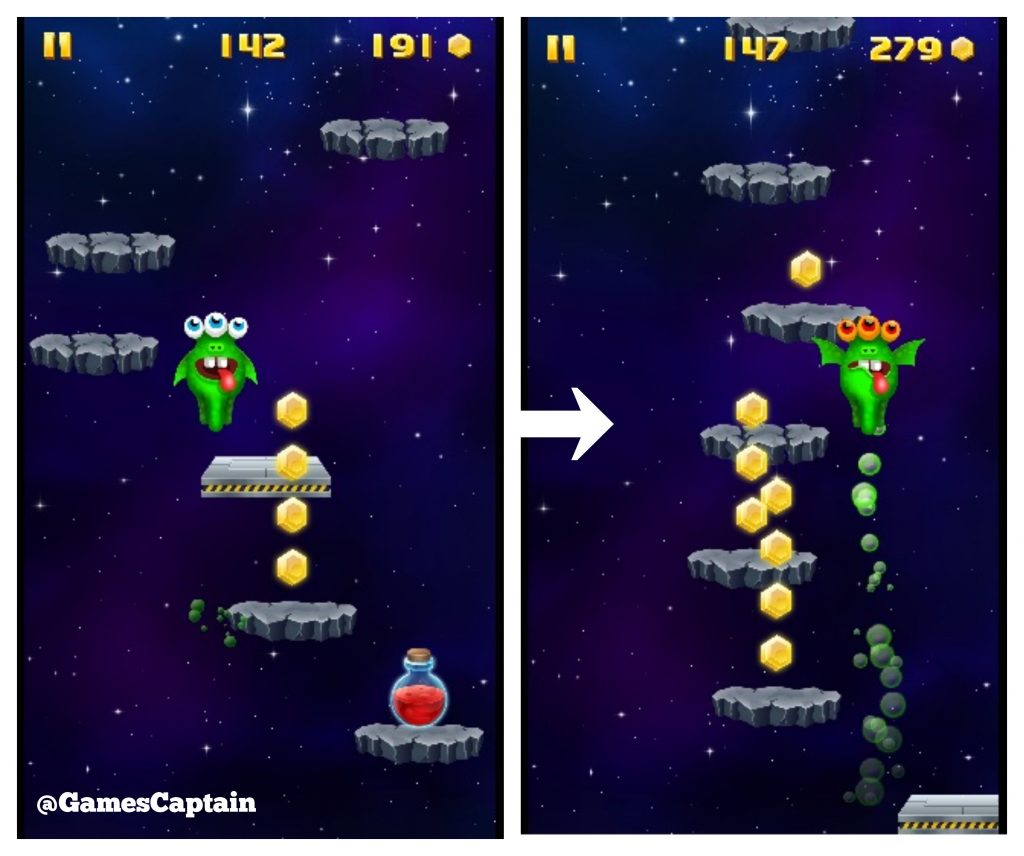 1. Choose to shoot and get the surfaces for the jump at the same time because if you focus on any one particular thing more, you won't be going long. Like if you do not shoot, only some far you can reach, after that, you might get hit by an asteroid and then you have to start over. Not all the time you can dodge, sometimes you gotta attack.
2.  Make sure to collect all the gold hexagonal-coins or points to score more, so that you can cross the level.
3.  You are also supposed to keep shooting while you jump to avoid any strike with threats such as asteroids.
Play ' Monster Jump' Online >>>