Space always fascinates whether it is movies, games or in science. It comes with a lot of possibilities, theories and exploration giving new ideas and concepts to movies and even to games. There is the whole genre of space in video games which were consumed by a large number of gamers. Some are classics, some from popular franchises and some are just cool enough to be tried once. Here you find these 5 fun space games which you can play online anytime.
Asteroid Classical 
One of the most popular classic games of the all-time is Asteroid Classical even if now there are many versions of the game are available. It is simplistic stimulate online game set up in a space where you control a spaceship in space-saving yourself from Asteroids. Using your arrow keys to decide the direction and 'up' arrow key to move forward. Using 'Space' Key, you can shoot at the asteroids coming at you and destroy it. So to survive, you can destroy the asteroids, sweeps away from it or do both. It is a fun simulation game which gives you edge-on-seat playing experience.
Play Asteroid Classical Online >>>
Duck Life: Space
Duck Life: Space is another game in the franchise of Fantastic Duck Life Training where the next adventure has been set up in the space. Aliens have now stolen the precious crown of the Duck who is like a champion in Duck Racing on Earth. Duck has decided to go to space and reclaim his stolen crown so he can continue racing championships on Earth. The game is quite fun where you can actually customize your duck with different colours, pick your name and start playing. Next, you will see, is the storyline about why duck is going to space in graphics. You need to train your duck through the challenges to make it more strong and agile. There are 6 different levels named as planets like Earth, Moon, Terra, Pyro, Mars and Freez.  You have to complete three training sessions. For more features, you also download the Android application.
Play Duck Life: Space Online >>>
Battleship 
The Battleship is a sea battle game with excellent graphics and new experience of advance sea war strategies is total fun to play. It is better than that pen and paper traditional battleship games. It is basically a guessing game where two players suppose to call their shot to destroy the opponent's battleship. Battleship is played on four grids where player's grid is supposed to be identified by their initial letters. You and your opponent suppose to arrange their ship secretly before the attack. Every ship has the range of their consecutive squares on the grid. Opponent's battleships will be hidden where they have to predict their position and attack accordingly with the help of the grid.
Asteroid Modern
Asteroid Modern is the advanced version of the classic game 'Asteroids'. The graphics are better and actually represented with real-looking asteroids and spaceship instead of lines and triangle. Rest, the rules and regulation with Asteroid Modern are the same as the classic Asteroids. You can use left and right arrow keys to change direction and 'up' key to move in that direction. You can use 'space' to shoot the asteroids to save your spaceship. The modern adaptation of the game also got the space background to give you the actual feeling of space.
Play Asteroid Modern Online >>>
Space Invader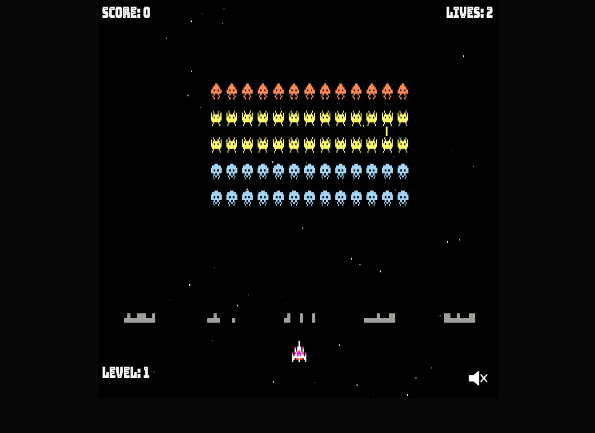 Space Invader is a truly engaging game where you suppose to shoot aliens as many you can. There are so many of them in front of you where they keep shooting at you. Your spaceship needs to protect itself from their hits as well as shoot to destroy them as well. Use arrow keys to move left and right along with ' space' key to shoot. Make sure you hide in the blocks or barriers to be shielded from their hits.