IO games where the IO stands for British Indian Ocean Territory, featuring multiplayer real-time games for players to join the game from all around the world. The IO games become highly popular after the success of Agar.io and such other games. Here are some popular IO multiplayer games you will get addictive with, get ready to play against the world.
1.Narwhale.io
Narwhale.io is very cool and unique kind of multiplayer real-time playing game where you will be controlling a whale with horn or spike on your head. You are supposed to swim towards the various direction in the water against other such more whales as well. You need to hit them with your horns or spike to cut them into pieces. You also have to prevent yourself from the same treatment as well, otherwise, you die. There are multiple gamers are playing the game all around the world.
Play ' Narwhale.io' Online >>>
2.Krunker.io
Krunker.io is a real-time multiplayer first-person shooting game which is basically set in the pixel universe. Here you need to survive by jumping and killing the objectives. The game features various gamers around the world with either login profiles or even as guest gamers. It is the first-person shooting game where you need to target the objectives.
3.Hole.io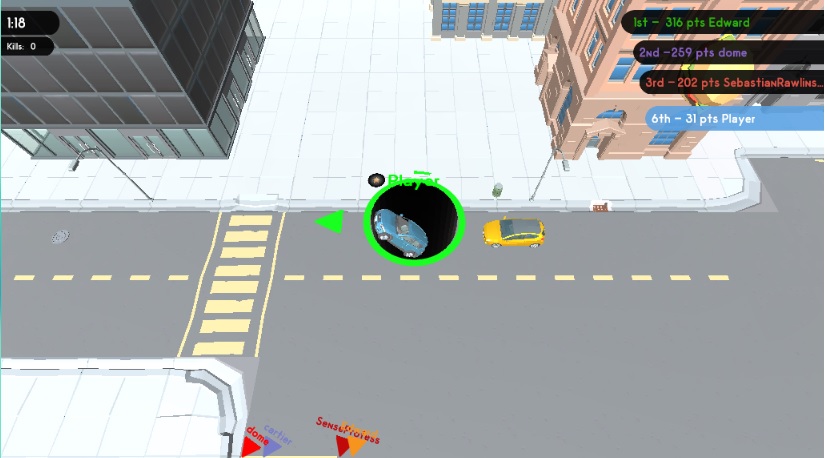 Hole.io is again, another unique, real-time multiplayer game where you are apparently a hole in the ground, deep down to the core of the earth moving around the city. The more you eat, the bigger you become. There are a lot of players are playing the game in the real-time with you so you can see your opponent's hole as well, some may be in standard size, some can be so giant that it can take a building in. In starting, you need to prevent yourself from getting overlapped by these giant holes or other opponent's hole, take in whatever you can, better to start with people, then cars and all.
4.Agar.io
It is one of the most unique and different kind of game which is trending online and also Android and Apple interfaces as well. You are supposed to grow your cell and avoid being eaten. Also, you must climb to the top of the leaderboards by scoring well. You must look out for special usernames through which you can play with secret skins.
5. Robot Storm.io 
Robot Storm is a fun robot-shooting game which is basically an adventure aim and shoots game. You control this robot with armor in his arms shooting with various kind of integrated guns. These guns are interchangeable. You will find other robots control by the opponent gamers around the world from different game histories and experience. It is one of the toughest io games to play against other people. You have to hide in maze-like walls, get a cover for yourself and then keep shooting on the opponents nearby you. In the shootout, just like any robot, the protagonist will slowly get dismantled, so before you get completely blown up, you need to get a repair from the maintenance room at the revival point.