One of the most adored genres of video games or online games is adventure games whether it is action-adventure, shooting-adventure or others. They are the kind of games where you get the most addictive and tempted to cross level and levels. Sometimes you even frustrated getting stuck in a particular level. There are a lot of adventure video games available online but here are some highly addictive ones to play, like now as you find the link below as well. Thank us, later.
1.Boy Adventurer 
Boy Adventurer is an ideal looking adventure game with some really cool graphics. The game has quicker response and efficient in playing. The boy in one adventure trip with a cowboy hat is supposed to collect all the gold coin in his way.  You can use arrow keys to move forward and backwards. Another fun is to slide on the ground using downward and the directional arrow key when there is a steep tunnel. There will be some zombies on which you need to jump to kill otherwise you will die once they come near you.
2.Super Mario Run
Super Mario Run is a fun version of Super Mario Bros with similar rules apply here too, like the classic predecessor. How it is different from the earlier games is, you need to click with the mouse to make it jump from obstacles and falls. There won't be arrow keys helping you here. It is more like run games played today with Mario touch. The basic objective is fire is catching up to the Mario where he cannot stop now. All he can do is run, jump and take coins.
Play 'Super Mario Run' Now >>>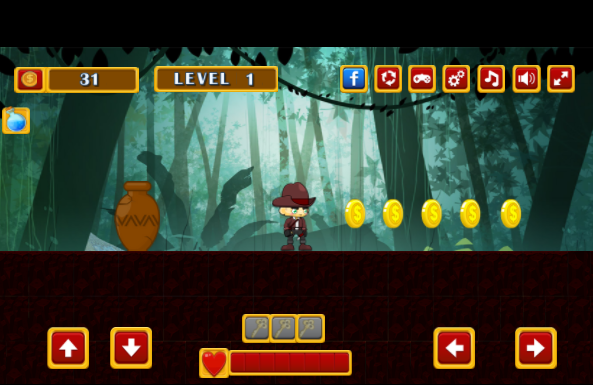 3.Room Escape
Room Escape is designed with sketched-graphics with a very minimalistic design which really attracts. You are a girl and you need to escape the room without getting eaten by this monster who is running restlessly around the room. All you need to do is get the key and go the door to escape. You must avoid the monster as if you came anywhere near he will eat you. Use the rectangular boxes to kill monsters or protect yourself.
4.Contra
Contra is one of the iconic games, quite classical game to play which is contemporary and fun to play all the time. All you need to do is kill the bad guys coming at you with their guns. It is one of the most popular action-adventure video games in the 90s.  It is a run and gun game owned, developed and published by Konami. There have been various sequel versions to Contra, available to play online.
5.Knights Diamond
Knights Diamond is a well-designed game with some cool graphics and fine detailing with characters and other things. You will see yourself a cute short knight with the sword of your height running and killing skull-head guys. You need to get all the gold coins and use hit boxes with swords to get the power inside. You will get power to throw swords at skull-head enemies from a distance so you won't be harmed.