Design
The design of the game is pretty much basic yet interesting and engaging for the gamers. Especially for a car or vehicle-based gamers but not the racing. It is what fascinates about the game or concept of the game. Jeep Ride is not a racing game but a vehicle adventure game in a side-scrolling format which is quite unique and interesting about it. It is like instead of a gaming character, gamers have this jeep with its own characteristics and methods to deal with obstacles. The objective is to ride through the journey where a lot of obstacles, hurdles, dangers, and traps are there to destroy your vehicle. The backdrop changes in different levels where it more seems to be a green village or countryside. You are traveling on a valley where you see the houses at the ground level. The jeep is beautifully designed to lure the gamers with small nuances such as the friction, brakes, the car movements, tilt, and the physics are pretty much accurate. This is one of the great aspects of this game and here the conviction lies in the game. All the traps, metal spinning wheels, tilting bridges, and many other obstacles and trap are made are well-developed and placed.
Gameplay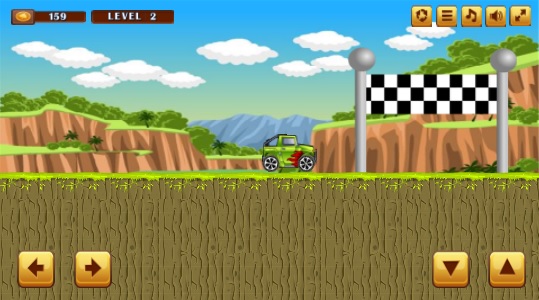 The gameplay is simple where the jeep has to just move in a direction to reach the checkpoints. There are a total of 20 levels in the game which is quite simple but still a lot of fun. It feels so good to play this game, even to watch jeep get topsy-turvy and then blast into pieces is quite fun. You are supposed to use UP arrow to move forward speedingly and DOWN key to pulling the jeep or for brakes and also if you continue to press it will get reversed. LEFT and RIGHT keys are used for left balance and right balance or tilts. It is used whenever you see a need to incline on a surface or go down. It avoids any kind of speed bumps or getting your car rolled topsy-turvy. You need to cross the laps and all the speed bumps, water, spinning wheels, and other traps as well as challenges. The game has very least learning curve but still fun to play. It is more like the engaging game, so not being ' difficult' doesn't mean it is not fun. However, there will be a wide scope of advancement in the game. Or you hope there will be more levels, more gameplay and meaty challenges to do in it.
Challenges



Jeep Ride is a fun game due to the level of challenges in it, it requires efficiency and regulation of speed to avoid any kind of accident. There are various challenges which are strategic and some are more of need precision at the time in the movement. Controlling the vehicle and pulling the brakes at the right time is also necessary for some instances. And again there are some parts where you need to run with all you got. The explosion cylinders make the jeep at the sudden speed and in the air for a while, if used properly it can help to cross an obstacle or kickstart the speed but in other case, jeeps can fall upside down and burn into ashes.  Then there are some boxes which turn into pieces when you hit it where the pieces will reduce your speed for a while. Use tilt wherever required to avoid car get turned upside down.
Tips to Play 
1.  First, you need to get hold of the vehicle movement because the regulation of speed is one thing which leads you to the finish line.
2. If speed is not regulated and managed, your jeep can be topsy turvy or go 'boom' anytime, even with a tiny speed bump.
3. Watch out for the falls which you might not see coming. Always have a reverse key at your ease finger to pull the car or slow it anytime.