After Candy Crush and other similar versions, candy games has become quite a 'category' or 'genre' itself for online games. It is efficient and fun to play anywhere. It doesn't take away your mind completely so you can be engaged in it for a while. Candy games seem to be addictive. If you do not play candy games and find people playing all the time, in the subway, train journeys, bus or among friends, you must try these games. They seem simplistic and least graphically bothered but it is really fun to play. Here are somewhere you can start or must play if you love candy crush or such games.
Candy Game 
Candy Game is one of the simplistic but awesome candy games you ever have played. It is a real time killer, and that is in a good way. It is also a great game to engage while you travel or get bored. What different about ' Candy Game' is, you don't actually have to move the candies to make the match. In fact, most of the candies look similar so the matches are already made, you just have to identify the consecutive matches.
Candy Crush
Candy Crush is actually the foundation of candy games genre which got popular after this particular where a lot of different versions and sequels has been released since after.  Candy Crush can be also called as one of the most popular online games as well as smartphone game which is widely and remotely played around the world. It is single screen puzzle games with candies on the board to get the matching combination of three and five consecutive blocks.  There are only a certain number of moves you can play, so it becomes quite challenging to get perfect matches.
Play ' Candy Crush' Online >>>
Farm Heroes Super Saga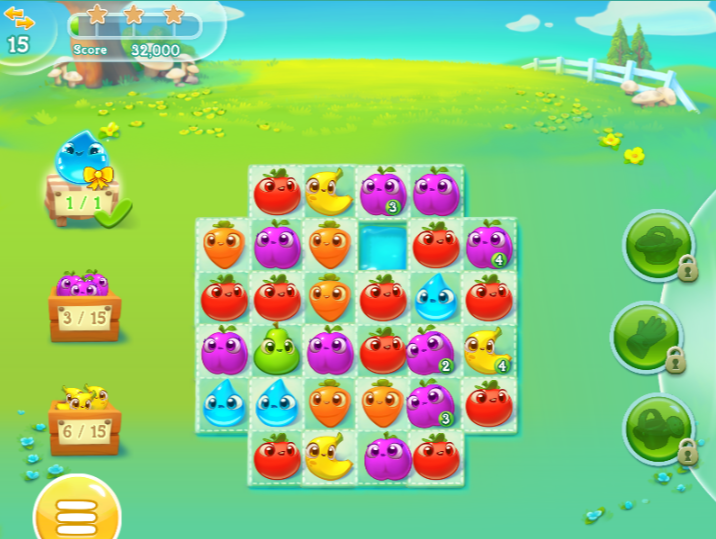 Farm Heroes Super Saga has farm fruits in it instead of candy to get perfect matches. The game is pretty much fun to play, especially if you love candy crush or such games. Every level is designed to present something new in the game. The graphics of the game is more than expected in such games with some special additional animation or graphics. The animation for these fruits with eyes and mouth made the game quite quirky as well. The combination even includes getting 3 or even 4 matches as well in form of a box.
Play ' FarmHeroes Super Saga' Online >>
Candy Crush Soda
Candy Crush Soda is another candy based game from 'candy crush' developer King where you will see some changes from the primary game here. It won't be a completely new experience, however, if you are a fan of candy crush and really like such games, you can try this. You will see the level of soda in the candy puzzle box is rising with every move. When you take a bit of time to play a move, you will see some hints regarding the match as a help.
Play ' Candy Crush Soda' Online >>>
Scrubby Dubby 
Scrubby Dubby is a bit different from the other candy games as instead of candies, they have soaps. Kidding! That's not the only thing different in this game. Here ever cell has a range of different shapes and colors of soaps which you can slide to choose in order to make a match. It is easy and super fun to do. You can do this horizontally as well as vertically to get the perfect match for consecutive order.
Play ' Scrubby Dubby' Online >>>