Nintendo is a Japanese multinational video game and electronics company which is considered to be one of the world's largest video game company of all time. Nintendo is behind a huge empire of early classical video games with a massive sale across the world. It is known to be developer and publisher of one of the best-selling video game franchises like Mario, Pokemon and The Legend of Zelda. It is also produced the very basis of gaming in the world with its primary Gameboy and later with their Nintendo Entertainment System devices. Every Gaming geek know about Nintendo and here are some most popular and successful contribution from the brand to the gaming industry.
Donkey Kong (1981)
Donkey Kong brings the real nostalgia of gaming of that 8-bit gaming era where it was certainly among the best ones. And you must know it is not just popular alone for that. The character 'Mario' was actually made debut in this very game, not actually in Mario series. Donkey Kong is a single-screen game, more like a puzzle where you need to save the princess at the top of the structure along with ape-like character Donkey Kong who is throwing drums at you. You are supposed to reach the princess saving yourself from those drums. It has first appeared as those arcade machine games.
Super Mario Bros. ( 1985)
Super Mario Bros. was the successor of the 1983 arcade game released in Japan and it turns out to be classic gaming cult. Since the very beginning, the Mario franchise managed to lead the classic gaming industry till today with their constant sequels and different versions.  Super Mario Bros. considered being one of the greatest games of the all time. The side-scrolling stage games feature Mario brothers as Mario and Luigi in multiplayer mode with a mission to rescue the Princess Toadstool from the villain Bowser. Mario Bros. is supposed to avoid the pits and enemies and take up the powers such as super mushroom, Starman and fire flower.
Tetris (1984)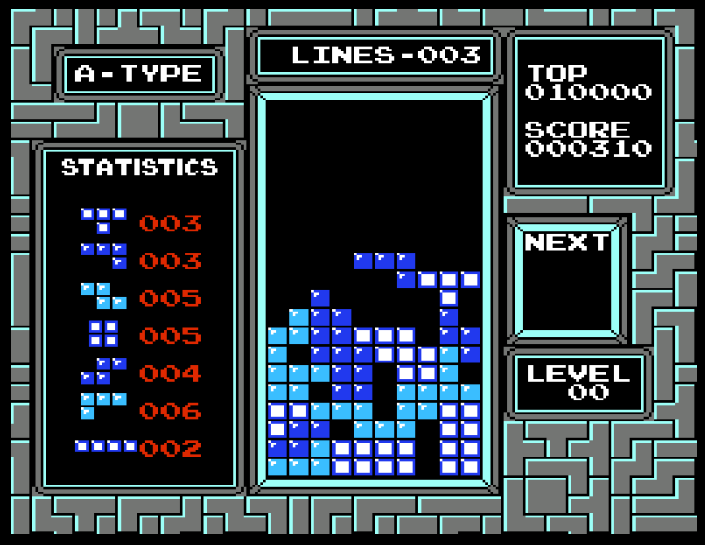 The addictive tile-matching video game was originally developed by Nintendo. There are game pieces called Tetriminos, shaped like Tetrominoes, a geometric composition of four square blocks to make a random sequence structure. In the game, irregular, random and unknown Tetriminos are falling towards the bottom where you are supposed to organize it in a way so it creates a regular square block made the structure and leveled out. There was a time when this game can be found in any device whether it is a phone, PC, Gameboy or game console. It becomes one of the most successful and popular Nintendo game.
Super Mario Bros 3 ( 1988)
Super Mario Bros. 3 was before the Super Mario World ( it was 4th in series) obviously but it was a different game altogether, not in case of gameplay or the plot but taking a leap after utter similarity of its predecessor. You can say, for making a sequel like Super Mario World, developers took a great leap with Super Mario Bros. 3. The different levels are mapped out in a world map in the game. New elements such as Bowser's children called Koopalings are firstly introduced in this version. It has become the critically-acclaimed NES game appears to be third best-selling NES game ever.
The Legend of Zelda: Ocarina of Time (1998)
The action-adventure game franchise ' The Legend of Zelda' is one of the best-selling game franchise from Nintendo, just like Mario. The Legend of Zelda: Ocarina of Time released in 1998 was the fifth game in the series. And also, it was the first game to come in 3D graphics. This fantasy action-adventure game in the series is with a more expansive backdrop. The player controls the protagonist Link where they can see the game in third-person-perspective.  Link gets this sword and shield to fight where other weapons can be also used such as bombs, projectiles, magic spells and much more.
Super Mario World (1990)
After the massive success of Super Mario Bros. and the consecutive editions, Nintendo came with something new in the Mario series. The fourth sequel of Super Mario Bros or say ' Super Mario World' was quite different and fresh as compared to its predecessors. The basic gameplay is the same as Super Mario Bros but there are some dramatic changes as well. It becomes categorized in different levels where a new character ' Yoshi' is introduced in the franchise. It is a dinosaur with the ability to eat their enemies and even later use it as a source of its power to throw fire. Mario or Luigi is supposed to find Yoshi and ride on it to further play the game. The game again becomes the best-seller SNES game.
Donkey Kong Country (1994)
Donkey Kong Country is a very popular platform game released in 1994 developed and published by Rare and Nintendo respectively. The game feature Donkey Kong and his nephew Diddy Kong. Their objective being to find and recover their stolen banana hoard from King K.Rool. The game is really fun, especially when you can switch the places from Donkey Kong to Diddy Kong and vice-versa. You are supposed to collect bananas and knock out dragons and other enemies, hitting them by rolling towards them. The game is quite adventurous as Mario where different levels purposes various challenges and here you got two protagonists. If you liked Mario, this game definitely has the capacity to hold you on for a long time. And also not forget the fact that Mario has made his first appearance in the game ' Donkey Kong'.