If you are finding difficulty to get some really cool online gaming website engaging enough for a long time, well we got you! Here are 5 most promising gaming website which provides you such plethora of games turning your desktop into a gaming console. If you just get bored with a lot of meaty-graphics oriented play station games but still looking for something new, light and yet interesting and variety oriented, something you can play easily anytime.
1.Miniclip
Miniclip is undoubtedly one of the premium online gaming websites which offer a wide array of online games in different categories such as Pool, Action, Puzzle, Android, Multiplayer and more. What also special about Miniclip is, they propose more than 70 categories which are uniquely curated in order to apprehend the gamers' mood, preferences, genre and more. Also, some lists or categories are originally created which is awesome to explore.
2. Go Cool Games
There is something unique about the Go cool games as they have a certain selection of those classic games, some modern version of the old vintage games along with some really cool collection of video games. They have plenty of classic old arcade games such as Pacman, Snake, Blocktris, Breakout, Space Invaders and more. There is another whole range of categories such as action, adventure, challenge, and zombies. Most of the collection they have is quite easy going but highly engaging online games, easy to play anywhere, efficient to load on a website and faster than any other seen.  On one side you are getting this buffet of online games in different genres along with classic and vintage selective.
3.8Bbit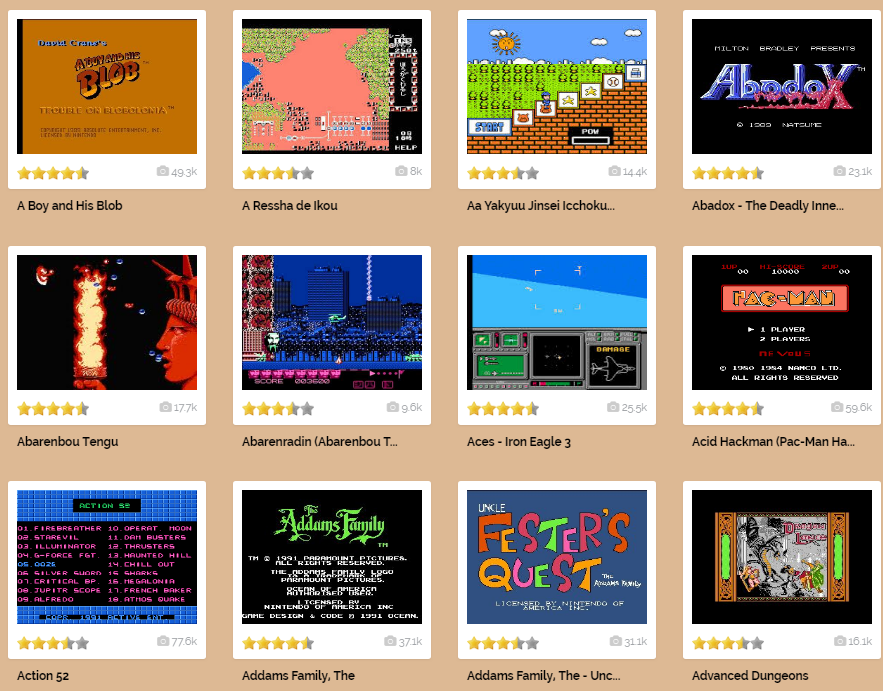 8Bbit games are a great pool of retro NES games with a wide range of 8-bit classic games. This website can give you some serious nostalgic ride to those 8-bit games or arcade games you use to play with your friends. The most iconic Nintendo games, NES, arcades, vintage and more. However, they have classified their games according to their genres such as Action, Adventure, Sports, Shooters, Racing, Hacks, and Puzzles. Next, you will see some suggestive sections like New games, Highest rated games and Most played games to make you go easy and fast. So it is one of the most interactive classic video games websites you might ever saw.  They have pretty much cool collection and some forgotten games like Adventure Island, Bomber Man, Punch Out and Castlevania.
4.Kongregate
Kongregate is another top-level online gaming website with all kind of games around the world and time. They have an old classic as well as new Android-based games as well. With an immense database, the website is quite user-friendly in order to provide maximum exposure to multiple categories and instant games to play on one go. Browsing game on Kongregate is really easy as they categorized the huge database by almost all factors including genre, type, platform, interest etc.
5.RetroGames.cz
RetroGames.cz is different from RetroGames.cc, you must know that and apparently, both websites are ideal for classic online gaming. The retrogames.cz features archives of one of the largest collection of 8-bit games, Nintendo games, MS-DOS games, NES, Atari, GB (Gameboy), Sega and much more. Their categorization is quite simple to find the best games in the desirable genres. They feature games in Adventure, Action, Fighting, Strategy, Racing, RPG, Platform, Adult and much more. The provide two, that is Flash and Java emulators to play the game on your PC or laptop. They have around 1195 games from the eighties and nineties.