Angry Birds apparently turned out to be one of the most popular online games ever, it becomes almost a cult in gaming where later adapted into the franchise for movies, animations and even products. The game was developed by Rovio Entertainment. It is now available in various versions and sequels as well, dedicated to different platforms. If you are someone who falls in quite an addiction to Angry Birds and some way looking for similar games, we got you. Here are 5 online games which give you same fun as Angry birds but still bit unique in their own ways.
Angry Aliens
Angry Aliens is highly inspired by the popular aiming game ' Angry Birds'. The action puzzle game is basically about shooting aliens instead of birds. Rest of the nature of the game is quite like Angry Birds, however, it is presented well enough to give you an exciting edge over the adaptation. It is fun and addictive, just like the Angry Birds. You are supposed to stretch the slingshot following the aim path trajectory to hit the aliens. You can choose your difficulty level.
Siege Hero: Viking Vengeance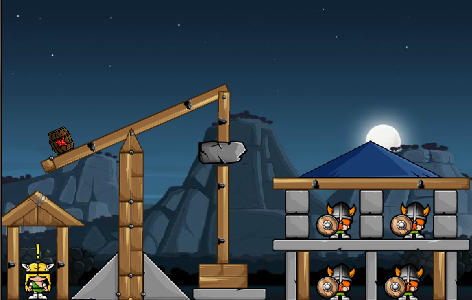 Siege Hero: Viking Vengeance is similar to the Angry Birds but still quite different from it. Here you don't have any birds, aliens or fish to target with but just stones to throw a complex boxed wall structure to cause maximum damage. It is interesting and addictive at the same time as the structure gets more and more complicated to destroy it in few stones. So it is challenging every time. The enemies inside the structures need to be destroyed by the destruction, then only you can proceed to another level. It is engaging game to look upon.
Play ' Siege Hero: Viking Vengeance' Now  >>>
Angry Fish
Angry Fish again seems to be fondly adapted from the popular action puzzle game 'Angry Birds' in the most convincing way apparently. Angry fish can be easily considered as one of the versions of Angry Birds which stands up to quality with its graphics and gameplay. You must try this game if you really like 'Angry Birds' kind of games. Here, the game is played in the backdrop of underwater where fishes are supposed to be shot at chickens in the blocks. The difficulty level of this game is somewhat higher than the angry games according to the earlier few levels.
Cut the Rope 2
Cut the Rope 2 came with the new characters after the success of its predecessor Cut the Rope. It is not much like 'Angry Birds' but it comes to a similar genre of action and strategy playing games. Like Angry Birds, you need a certain strategy, then only your actions will help to win the game. Here, the character is in a certain setting where he needs to feed the candy tied in a rope. You have the power to cut the ropes but the candy only will get into this green little monster fella, if you do it strategically, so it falls directly to him. It is an interesting game to play for months.
Play ' Cut the Rope 2' Now  >>>
Angry Finches
You can Angry Finches is quite like Angry games. It is just you find here these finches to shoot with instead of birds or aliens. Angry finches is a simple animated puzzle action game to play, a good alternative for Angry birds if you got bored with it. The target practicing game is quite fun to play, especially if you really love puzzle-action games. The game is a great combination of shooting, target practicing, strategy and action at one time.