Hands down to Mario which is one of the most famous games that ever introduced in the Gaming industry. Most of the people have their childhood memories with the game and there are lots of fan following behind Mario. That's why there are lots of fans also showed their support and love through expending the game and adding their own touch along with the basic theme. The fan-games of classic video games are quite a popular concept for the past few years which is available to play online with authentic classic video games as well.  Well, for now. here are the best 5 fans made Mario games for all of those who want to play more.
1.Super Mario Bros. Dimensions
It basically refers to the SMBX,  and also one of the most famous fan-made version of Mario video games. It has its characters which is divided into five different which have their own powers such as Mario, Toad, Peach,  Lungi, and Link. They also have powerups which include Hammer Suit and Yoshi too. The game also has the multiplayer option where you can join with your friends, also split the screen into battle mode too.
Play Super Mario Bros. Dimensions Online/ Download >>>
2.CG Mario Level Pack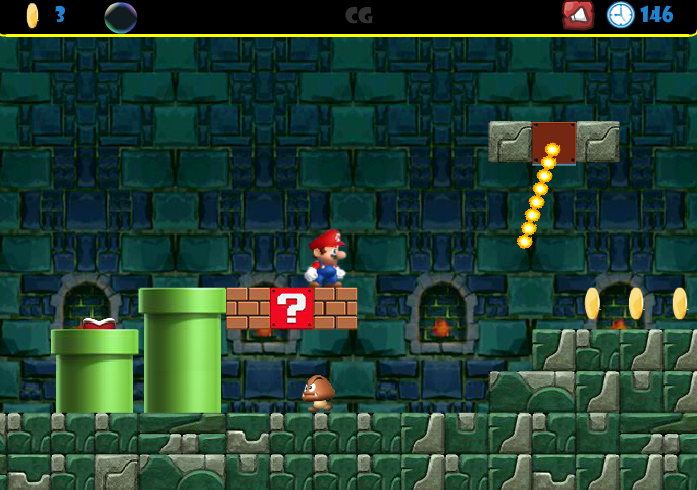 CG Mario Level Pack is one of the coolest fan-made Mario games from the wide range that has been made in the series. This is more like true dedication to Super Mario fans where the rules are pretty much same. The game is reprised however with some new set of challenges and obstacles to make it even more interesting without losing the authenticity of Mario itself. The gameplay is quite simple and adaptive to Mario players. There are 12 different levels and dropbacks, the game is made quite well. The graphics elevated in this fan-made Mario games as compared to the original ones. You will see the characters and elements in more detail than ever.
Play CG Mario Level Pack Online >>>
3.Super Mario War
Super Mario War is a total fun in multiplayer and actually, the 'war' here means war between Mario and Luigi. There are only 6 levels, you will wish if it could have been more. There is a freeze frame with boxes, clouds and all and two are supposed to be playing the game together. One golden coin is appearing at a time in some random place and whosoever collect total 15 of them at first, will win the game.  You can use left and right arrow keys to move left and right respectively. Use 'up' arrow key to jump and 'X' to shoot a fireball.
Play Super Mario War Online>>>
4.Ultimate Mario Run
Ultimate Mario Run is another fan-made version of Mario or game inspired by Mario. It is quite different than usual fan-made games or the actual one where you won't use arrow keys at all. It is more like those 'run' games where Mario kept running and you have to make him jump above the obstacles taking all the points and all.
Play Ultimate Mario Run Online >>>
5. Mari0
Mari0 or Mari(0) is probably the best fan-made Mario game you have ever played. And Just to mention it is not 'O' in Mari0 but the 'zero'. The game is totally similar to the traditional Mario game except for one big change which kind of blow your mind.  And it is – Portals! Mario is going to have this power of creating a blue and red portal in the game.  Both games such as Portal and Portal 2  are into this Mario game where you can manipulate the enemies. You can throw them to the portals to teleport them to any other place out of the danger range. It's total fun and quite thoughtful of the fan. You can make your own changes as well, the game is available in open source and for download as well.